News
Skyboat Media produced this great little documentary about Wil Wheaton's recording sessions for the audiobook of my novel Homeland, in which he had to read out Pi for four minutes straight, read out dialog in which the narrator had a fanboy moment about meeting Wil Wheaton, and many other fun moments.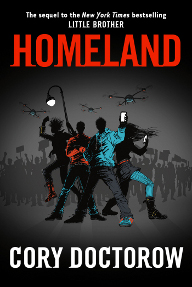 I am delighted and honored to announce that my novel Homeland has won the Prometheus Award for best novel, tying with Ramez Naam's excellent novel Nexus. I am triply honored because this is the third Prometheus I've won -- the other two being for Little Brother and Pirate Cinema. My sincere thanks to the Libertarian Futurist Society; I'll see you at the Worldcon in London this year to accept it!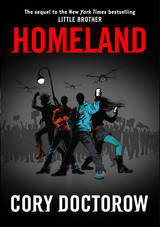 I'm honoured and delighted to learn that my novel Homeland has been shortlisted for Canada's Sunburst Award, a juried prize for excellence in speculative fiction. I've won the Sunburst twice before, and this is one of my proudest accomplishments; I'm indebted to the jury for their kindness this year. The other nominees are a very good slate indeed -- including Nalo Hopkinson's Sister Mine and Charles de Lint's The Cats of Tanglewood Forest.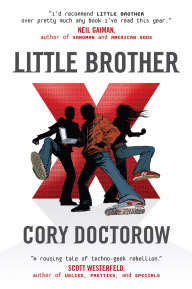 For the first time, one of my books has been challenged. The students at Booker T Washington High in Pensacola, Florida were to be assigned Little Brother for their summer One School/One Book read. At the last instant -- and over the objections of the head of the English department and the chief librarian -- the principal reversed the previous approval and seems to have cancelled the One School/One Book program outright. My amazing publishers, Tor Books, have volunteered to send 200 copies to the school for the students to read, and I'll participate in a videoconference with the students in the coming school year. Read all about it on Boing Boing.
Humble Ebook Bundle adds Lawful Interception audio, From Hell Companion, Too Cool To Be Forgotten

The latest Humble Ebook Bundle has added four new titles: Alan Moore and Eddie Campbell's From Hell, the From Hell Companion (review), Too Cool to Be Forgotten (review); and my audiobook for Lawful Interception, the sequel to Little Brother and Homeland. They join a stellar lineup of other comics, novels and ebooks with work by Neil Gaiman, George RR Martin, Ed Piskor, Nate Powell, Paolo Bacigalupi, Tobias Buckell and Terry Goodkind.
Name your price for them -- all DRM free, and you can contribute to charity when you buy!

The finalists for the 2014 Locus Awards have been announced and I'm incredibly honored to see that my novel Homeland made the final five in the Young Adult category. The competition in that category is remarkably good company: Zombie Baseball Beatdown by Paolo Bacigalupi; Holly Black's Coldest Girl in Coldtown, Cat Valente's The Girl Who Soared Over Fairyland and Cut the Moon in Two (part of her wonderful Fairyland series) and The Summer Prince by Alaya Dawn Johnson.
As always, the Locus list is a great guide to the best sf/f published in the previous year. On this year's list are some books I really enjoyed (like Stross's Neptune's Brood) and others I've got in my high-priority to-be-read pile, like Gaiman's The Ocean at the End of the Lane.
My sincere thanks to everyone who nominated Homeland for the prize; I couldn't be more delighted!

For those of you who missed the audiobook in which Wil Wheaton reads my novel Homeland in the Humble Ebook Bundle, despair no longer! You can buy it DRM-free on the excellent Downpour.com, a site with many DRM-free audio titles.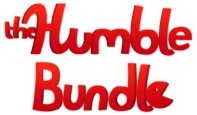 Chapter nine of Homeland opens with about 400 digits of Pi. When Wil Wheaton read the chapter, he soldiered through it, reading out Pi for a whopping four minutes! Here's the raw studio audio (MP3) of Wil and director Gabrielle De Cuir playing numbers station.
There's less than a week left during which you can get the independently produced Homeland audiobook through the Humble Ebook Bundle!

Hey, Danes! There's a limited-edition Danish-language translation of Little Brother that's just come out from Science Fiction Cirklen! Tell your friends!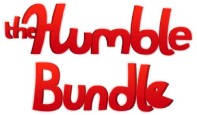 Before he died, Aaron Swartz wrote a tremendous afterword for my novel Homeland -- Aaron also really helped with the core plot, devising an ingenious system for helping independent candidates get the vote out that he went on to work on. When I commissioned the indie audiobook of Homeland (now available in the Humble Ebook Bundle, I knew I wanted to have Aaron's brother, Noah, read Aaron's afterword, and Noah was kind enough to do so, going into a studio in Seattle to record a tremendous reading.
Here is Noah's reading (MP3), released as a CC0 file that you can share without any restrictions. I hope you'll give it a listen.
And a reminder that the complete Humble Ebook Bundle lineup is now available, including work from John Scalzi, Mercedes Lackey, and Ryan North, as well as the core bundle, which features Wil Wheaton, Holly Black, Steven Gould, and Scott Westerfeld!