News
Hey, Austin! I'm in town today, doing an event at Book People at 7PM, and then an EFF-Austin benefit. Saturday, I'm in Portsmouth, NH, then on Sunday I'm in Nashua, NH.
Hey, Houston! I'll be at Brazos Bookstore tonight at 7PM with my new novel Bookpeople and then a benefit for EFF-Austin, and then I'm heading north to New Hampshire where I'll be at RiverRun Books and the Liberty Forum. And there's still many more cities!
Here's a nice surprise: a glowing review of my new novel Homeland in the WSJ.
"Homeland" is as dead serious as "1984," as potentially important a "novel of ideas," with a much more engaging central character and an apparently inexhaustible supply of information on everything from brewing coffee to sneaky surveillance and how to defeat it.

Mr. Doctorow is bang up-to-date (as Orwell never was) on the uses of rapidly changing technology, both good and bad. If you want to keep up, there's a four-page appendix on how to protect your privacy and use the Net productively—so long as you're allowed, that is.
Hey, New Orleans! At this very moment, I'm flying your way for an event tonight at Octavia Books at 6PM. Tomorrow, I'll be in Houston, and then to Austin for a bookstore event and a benefit for EFF-Austin. I'm not done, either: there's plenty more cities left! Come on down and say hi!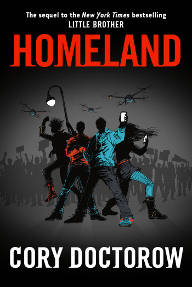 After nearly two weeks on the road, I've finally resolved the niggling technical issues I was having with the free, CC-licensed electronic edition of Homeland. Many, many thanks to Nat Torkington and Ralph Amissah for their invaluable assistance. You can download and share the free ebooks from the official Homeland site. Go nuts!
Hey, Memphis! I'm appearing tonight at The Booksellers at Laurelwood at 6PM! Tomorrow, I'll be in New Orleans, followed by Houston on Thursday. And lots more to come!
Hey, Oxford, MS! I'm coming to town today, and signing at Square Books at 5PM on the tour for my new book Homeland. I'll be in Memphis tomorrow, and then I go to New Orleans on Tuesday. Though I can hardly believe it, the tour is only halfway along, and there's tons more stops to come.
Calvin Powers of the SplatSpace makerspace posted a video of yesterday's presentation at Flyleaf Books in Chapel Hill, NC. Thanks, Calvin!
Hey, Decatur! I'm coming to town today on the tour for my new novel, Homeland; I'll be at the Decatur Library at 7PM. Then, on Monday I'll be in Oxford, MS, followed by Memphis on Tuesday. There's many more cities to go!
Hey, Chapel Hill! I'm headed your way today on the Homeland tour! I'll be at Flyleaf Books at 2PM. Tomorrow, I'll be in Decatur, and Monday it's a 5PM event at Square Books in Oxford, MS. I'm only halfway through the tour, too! Here's the rest of the schedule.