News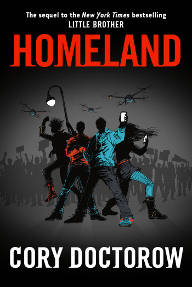 After nearly two weeks on the road, I've finally resolved the niggling technical issues I was having with the free, CC-licensed electronic edition of Homeland. Many, many thanks to Nat Torkington and Ralph Amissah for their invaluable assistance. You can download and share the free ebooks from the official Homeland site. Go nuts!
Hey, Memphis! I'm appearing tonight at The Booksellers at Laurelwood at 6PM! Tomorrow, I'll be in New Orleans, followed by Houston on Thursday. And lots more to come!
Hey, Oxford, MS! I'm coming to town today, and signing at Square Books at 5PM on the tour for my new book Homeland. I'll be in Memphis tomorrow, and then I go to New Orleans on Tuesday. Though I can hardly believe it, the tour is only halfway along, and there's tons more stops to come.
Calvin Powers of the SplatSpace makerspace posted a video of yesterday's presentation at Flyleaf Books in Chapel Hill, NC. Thanks, Calvin!
Hey, Decatur! I'm coming to town today on the tour for my new novel, Homeland; I'll be at the Decatur Library at 7PM. Then, on Monday I'll be in Oxford, MS, followed by Memphis on Tuesday. There's many more cities to go!
Hey, Chapel Hill! I'm headed your way today on the Homeland tour! I'll be at Flyleaf Books at 2PM. Tomorrow, I'll be in Decatur, and Monday it's a 5PM event at Square Books in Oxford, MS. I'm only halfway through the tour, too! Here's the rest of the schedule.
Kevin Loughin came out to my Homeland tour-stop in Cincinnati on Valentine's Day and made a great video of the presentation and Q&A. He was kind enough to post it to YouTube -- thanks, Kevin!


Cory Doctorow talk on Homeland.

Hey, Miami! I'm about to head to the airport for my appearance tonight at Books & Books. Tomorrow I'll be in Chapel Hill at Flyleaf Books, and on Sunday I'll be in Decatur at the Decatur Library (sponsored by Little Shop of Stories). There's still plenty more cities to go, too!

After my event at Austin's Book People on Feb 22, I'll be doing a benefit for EFF-Austin on their location privacy campaign. We did this the last time I came through town and it was tremendous -- come on out!
An evening with Cory Doctorow and EFF-Austin
As I write this, I'm on my way to the airport, headed for Cincinnati, where I'll be doing an appearance tonight at Joseph-Beth Booksellers on the tour for Homeland, which hit the New York Times bestseller list last night. Tomorrow, I'll be in Miami and then I'll be in Chapel Hill. There's still lots more cities on the tour!