News
Calvin Powers of the SplatSpace makerspace posted a video of yesterday's presentation at Flyleaf Books in Chapel Hill, NC. Thanks, Calvin!
Hey, Decatur! I'm coming to town today on the tour for my new novel, Homeland; I'll be at the Decatur Library at 7PM. Then, on Monday I'll be in Oxford, MS, followed by Memphis on Tuesday. There's many more cities to go!
Kevin Loughin came out to my Homeland tour-stop in Cincinnati on Valentine's Day and made a great video of the presentation and Q&A. He was kind enough to post it to YouTube -- thanks, Kevin!


Cory Doctorow talk on Homeland.

Hey, Miami! I'm about to head to the airport for my appearance tonight at Books & Books. Tomorrow I'll be in Chapel Hill at Flyleaf Books, and on Sunday I'll be in Decatur at the Decatur Library (sponsored by Little Shop of Stories). There's still plenty more cities to go, too!

After my event at Austin's Book People on Feb 22, I'll be doing a benefit for EFF-Austin on their location privacy campaign. We did this the last time I came through town and it was tremendous -- come on out!
An evening with Cory Doctorow and EFF-Austin
As I write this, I'm on my way to the airport, headed for Cincinnati, where I'll be doing an appearance tonight at Joseph-Beth Booksellers on the tour for Homeland, which hit the New York Times bestseller list last night. Tomorrow, I'll be in Miami and then I'll be in Chapel Hill. There's still lots more cities on the tour!
Indiebound list, too! Life is good where I am.
Scott Sigler's got a new YouTube show called Monstrosity, and he interviewed me (and several others!) for it. I also gave him a shakycam tour of my beloved office, which he's posted as a bonus ep.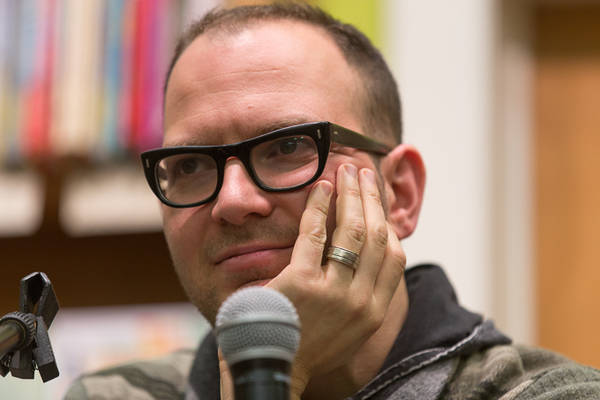 Photographer Alex Schoenfeld came to my Homeland tour-stop at Booksmith in San Francisco and took some great shots, which he's been kind enough to post under a Creative Commons 3.0 Non-commercial attribution only license. Thanks, Alex!
ASU's Center for Science and the Imagination has already posted the video from this morning's panel on hacktivism and politics. It was a good, meaty discussion: Part 1, Part 2