News
My latest Publishers Weekly column, "I Can't Let You Do That, Dave," is a look at the dangers of redesigning our computers to boss us around instead of doing what they're told and trying to help us:
Contrary to what's been written in some quarters, Aaron Swartz didn't attempt to download those journal articles because "information wants to be free." No one cares what information wants. He was almost certainly attempting to download those articles because they were publicly funded scholarship that was not available to the public. They were scientific and scholarly truths about the world, information that the public paid for and needs in order to make informed choices about their lives and their governance. Fighting for information's freedom isn't the point. It's people's freedom that matters.

All of which makes the publishing community's embrace of DRM and its advocacy for badly written, overly broad legislation to support DRM, fraught with peril. Since Frankenstein, writers and thinkers have recoiled in visceral horror at the idea of technology overpowering its creators. But when we actively build businesses that require censorship, surveillance, and control to thrive, we make a Frankenstein's monster out of the devices that fill our pockets and homes, and the network that binds them all together.
---
Calvin Powers of the SplatSpace makerspace posted a video of yesterday's presentation at Flyleaf Books in Chapel Hill, NC. Thanks, Calvin!
---
Kevin Loughin came out to my Homeland tour-stop in Cincinnati on Valentine's Day and made a great video of the presentation and Q&A. He was kind enough to post it to YouTube -- thanks, Kevin!


Cory Doctorow talk on Homeland.

---

After my event at Austin's Book People on Feb 27, I'll be doing a benefit for EFF-Austin on their location privacy campaign. We did this the last time I came through town and it was tremendous -- come on out!
An evening with Cory Doctorow and EFF-Austin
---
Indiebound list, too! Life is good where I am.
---
Scott Sigler's got a new YouTube show called Monstrosity, and he interviewed me (and several others!) for it. I also gave him a shakycam tour of my beloved office, which he's posted as a bonus ep.
---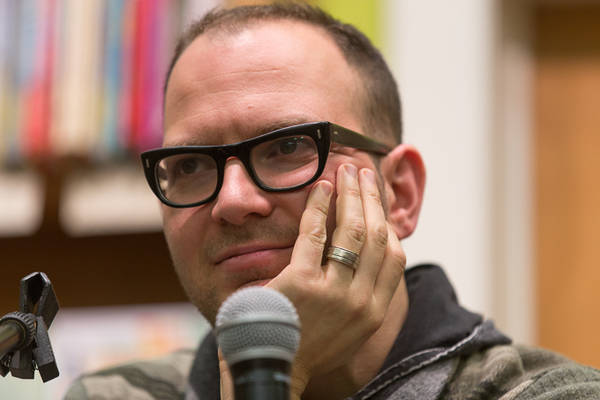 Photographer Alex Schoenfeld came to my Homeland tour-stop at Booksmith in San Francisco and took some great shots, which he's been kind enough to post under a Creative Commons 3.0 Non-commercial attribution only license. Thanks, Alex!
---
ASU's Center for Science and the Imagination has already posted the video from this morning's panel on hacktivism and politics. It was a good, meaty discussion: Part 1, Part 2
---
Last week I sat down for an interview with Rick Kleffel at KQED in San Francisco. He's put the whole interview -- a long one! -- up in his Trashotron podcast feed. We talked about Homeland and other things. Rick, as always, was a very astute interviewer.
---
As you've no doubt gleaned, I'm on tour with my new novel, Homeland. A lot of people commiserate with me about the grueling pace -- and it is! a new city practically every day and nowhere near enough sleep and continuous interviews and presentations from o-dark hundred to late at night -- but for all that, it's actually something I love. That's because I get to meet readers, especially young readers (I do a lot of school presentations) and readers tell me about how my books have affected them, and it's generally both humbling and delightful.
But every now and again, I hear from a reader whose description of her or his experience with my work leaves me, well, speechless. This is one such letter, from a young man named Brian, who emailed me this morning, and graciously gave me permission to post his letter. I'm posting it to let you know -- and to remind me -- that for all that touring is sometimes a lot of work, the end result is that my books end up in the hands of people for whom they can be revelatory. It's such an awesome responsibility, and such a wonderful one. Thank you, Brian.
I started reading Homeland the day it came out, and finished it the day after. I had it on pre-order on my kindle, which I proceeded to bring with me everywhere for the following two days. I have read Little Brother, For The Win, Pirate Cinema, and Chicken Little. Each one amazed me (though Chicken Little is slightly less related to my point). By the time I got to the last page of Homeland, I was incensed. I didn't have time to read the afterword, I was going to get started right away!

I looked up TrueCrypt, and was shocked to find it actually existed. Immediately downloaded. I had known about TOR before, but hadn't thought much about it. My next move was to install it into my TC drive and begin using it. I found out about the CryptoParty movement, and I'm trying to figure out a Party in my hometown.

My point is, your book introduced me to practical cryptography and to a side of the movement for "freedom of people," as you called it, that I had never before seen.

And then I read the afterword.

Related to my cryptography search, I had recently re-read some of the news articles and documents pertaining to Aaron's suicide. The moment I saw his name on the afterword, I put the book down and started crying. I'm not normally a person to cry, but I couldn't take it right then. Slowly, I picked my kindle back up and started reading again. As I read, tears welled in my eyes. I was very moved by your book, but (with all respect), these words from beyond the grave – from a real person beyond the grave – affected me more than any book ever could.

I didn't know Aaron personally, but even so that passage made me cry. I can't say I know how you felt, but I can say that I think it would have been hard for me to include his afterword. I'm damn grateful you chose to keep it. It is even more important now. When I read it, I was touched, but I was also pissed. My immediate, gut reaction was that no one has the right to do that to someone. The attacks and case against him were ridiculous, and I hope those who targeted him feel ashamed. My ensuing reaction was to do something, to really get out and do something. What, I'm not quite sure: I don't know many internet activists, and my hometown isn't exactly the center of internet activism, but that's what the internet's for, isn't it? The internet lets anyone anywhere join in global movements that impassion them, and now I'm ready to join in a global initiative toward freedom on the internet across the world.

So, to summarize: your book worked. I read the Huffington Post article of an excerpt of their interview with you. Well, I am your ideal kid: I'm 14, here in 2013, and I my reaction was to "rush to a search engine and figure out proxies, free/open operating systems, freedom of information requests, local makerspaces, campaigns for political accountability…the whole package." (Well, really I'm still working on some of those.)

Anonymous
---