Stories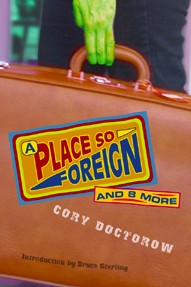 A collection of my stories, called A Place So Foreign and Eight More was published by Four Walls Eight Windows in September, 2003. Six of the nine stories are available for free download under a Creative Commons license, and the book is selling briskly.

---
By His Things Will You Know Him, "An Aura of Familiarity: Visions from the Coming Age of Networked Matter," Institute for the Future
---
Gateways, Tor Books
---
---
---
The New Space Opera 2: All-new stories of science fiction adventure (Gardner Dozois and Jonathan Strahan)
---
Finalist, Locus Award, 2009
Tor.com has just published a new story of mine, "The Things that Make Me Weak and Strange Get Engineered Away" (the title is from "The Future Soon," a Jonathan Coulton song), which is about geek monasteries that house smart people who can't get along in the world and put them to work as coders. The story is the first Tor.com piece to be Creative Commons licensed and you're encouraged to remix it, translate it, whatever. There's already a podcast of me reading the story (also CC licensed) and PDF, Mobipocket and Sony reader files are already available.
---
---
Podcast (Escape Pod, November 2007)
---
Translations:
Bulgarian translation (Georgi Ivanov and Maya Georgieva)
Dutch translation (Niels Huijbregts)
French translation (C&F Editions)
German translation (Christian Woehrl)
German translation (Maximilian Schreiner)
Greek translation (Michael Tegos)
Italian translation (Decio Biavati)
Italian translation (Reginazabo)
Japanese translation (Takashi Kurata)
Japanese translation (Yutaka Ohshima)
Latvian translation (Bar Camp Baltics team)
Macedonian translation (Aleksandar Balalovski)
Norwegian translation (Tarjei Vågstøl)
Persian translation (Jadi)
Polish translation (Piotr Wrzosinski)
Portuguese translation (Carlos Martins)
Romanian translation (Stefan Talpalaru)
Russian translation (Ruslan Grokhovetskiy and friends)
Slovak translation (Pavol Hvizdos)
Spanish translation (Felixe and Marisol)
Turkish translation (Dördüncü Göz)
Ukrainian translation (Kos Ivantsov)
Art:
English fan art poster (Stojance)
Russian fan art poster (Ruslan Grokhovetskiy and friends)
English fan art poster(Ruslan Grokhovetskiy and friends)
Photoshop source file for Grokhovetskiy posters
File formats:
HTML (Churba Silvertongue)
PRC (Churba Silvertongue)
XML (Churba Silvertongue)
PDB (Henrik Löwendahl-Nyrén)
---
This story appears in my collection Overclocked: Stories of the Future Present, 2007
Baen's Universe, August 2006
The Rake, December 2006
Podcast: Part 1, Part 2, Part 3, Part 4, Part 5, Part 6
When Sysadmins Ruled the Earth">Full cast radio drama, QN Podcast
French fan-translation, courtesy of Zen le Renard (Text, HTML)
Spanish tranlsation (Axxon)
Italian Translation (Fantascienze, Dec 2007)
I started writing When Sysadmins Ruled the Earth on July 6th, 2005, while teaching Clarion. The next day, the London Underground and busses were bombed, including the bus I rode to work every morning (I was in Michigan, teaching Clarion, thankfully). These kinds of coincidences can be spooky when you're a writer. I ended up putting the story away for some months.
When I returned to it, I was fired anew with the story of Felix and Van and their vainglorious struggle to keep the servers online as the world went offline. Once created, apocalyptic anxiety can't be destroyed -- the 1980s fear of nuclear annihilation I grew up with surfaces anew with each theoretical disaster: Y2K, climate change, und so weiter. There's something primal about a story of the Earth's impending doom.
I was a sysadmin at an earlier stage in my career and I have infinite respect for the field: sysadmins are the secret masters of the universe, and they keep your life running.
---