Stories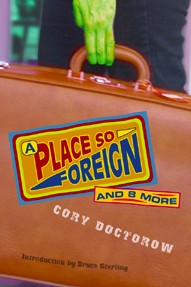 A collection of my stories, called A Place So Foreign and Eight More was published by Four Walls Eight Windows in September, 2003. Six of the nine stories are available for free download under a Creative Commons license, and the book is selling briskly.

---


Medium have published an excerpt from "The Man Who Sold the Moon, my 36,000 word novella in Hieroglyph: Stories and Visions for a Better Future, a project to inspire optimism and ambition about the future and technology that Neal Stephenson kicked off (see also What Will it Take to Get Us Back to the Moon?).
---
By His Things Will You Know Him, "An Aura of Familiarity: Visions from the Coming Age of Networked Matter," Institute for the Future
---
Gateways, Tor Books
---
---
---
The New Space Opera 2: All-new stories of science fiction adventure (Gardner Dozois and Jonathan Strahan)
---
Finalist, Locus Award, 2009
Tor.com has just published a new story of mine, "The Things that Make Me Weak and Strange Get Engineered Away" (the title is from "The Future Soon," a Jonathan Coulton song), which is about geek monasteries that house smart people who can't get along in the world and put them to work as coders. The story is the first Tor.com piece to be Creative Commons licensed and you're encouraged to remix it, translate it, whatever. There's already a podcast of me reading the story (also CC licensed) and PDF, Mobipocket and Sony reader files are already available.
---
---
Podcast (Escape Pod, November 2007)
---
Translations:
Bulgarian translation (Georgi Ivanov and Maya Georgieva)
Dutch translation (Niels Huijbregts)
French translation (C&F Editions)
German translation (Christian Woehrl)
German translation (Maximilian Schreiner)
Greek translation (Michael Tegos)
Italian translation (Decio Biavati)
Italian translation (Reginazabo)
Japanese translation (Takashi Kurata)
Japanese translation (Yutaka Ohshima)
Latvian translation (Bar Camp Baltics team)
Macedonian translation (Aleksandar Balalovski)
Norwegian translation (Tarjei Vågstøl)
Persian translation (Jadi)
Polish translation (Piotr Wrzosinski)
Portuguese translation (Carlos Martins)
Romanian translation (Stefan Talpalaru)
Russian translation (Ruslan Grokhovetskiy and friends)
Slovak translation (Pavol Hvizdos)
Spanish translation (Felixe and Marisol)
Turkish translation (Dördüncü Göz)
Ukrainian translation (Kos Ivantsov)
Art:
English fan art poster (Stojance)
Russian fan art poster (Ruslan Grokhovetskiy and friends)
English fan art poster(Ruslan Grokhovetskiy and friends)
Photoshop source file for Grokhovetskiy posters
File formats:
HTML (Churba Silvertongue)
PRC (Churba Silvertongue)
XML (Churba Silvertongue)
PDB (Henrik Löwendahl-Nyrén)
---