News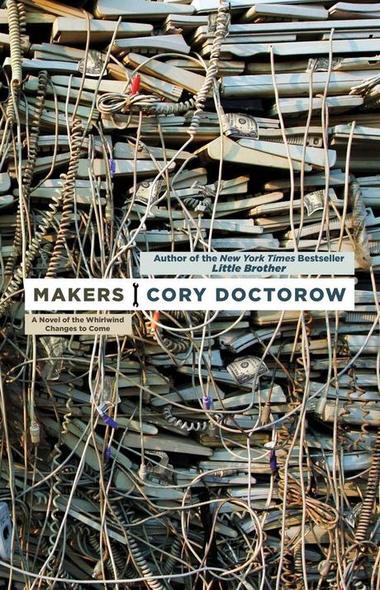 Tonight, I'm launching my latest novel Makers in Canada, at the excellent Toronto sf reference library, the Merril Collection, at 239 College St. (3rd floor), east of Spadina. The event starts at 7PM, and I'll be doing a reading, taking questions, and signing books.
Books are being sold by Bakka Phoenix, and if you can't make it tonight, they're happy to take your pre-orders for signed, personalized copies -- I'll sign them tonight and they'll ship them out right away. They're at +1 416 963 9993 or inquiries@bakkaphoenixbooks.com.
Hope to see you there!
Today's Toronto Star has a good piece about my upcoming book-launch for Makers in Toronto on Nov 12, and on the politics that informs my work.
Cory Doctorow will have mixed feelings when the news reaches him that employees of the Toronto Public Library system will not be on strike this week.

The U.K.-based author and blogger will launch his new novel, Makers, with an event Thursday at the Merril Collection of Science Fiction, Speculation and Fantasy at the Lillian H. Smith Branch on College St. Had the library been surrounded by pickets, Doctorow planned to stage the event on the sidewalk outside, with the consent of the striking workers and their union. (A tentative agreement between the library and its unionized workers was reached on Wednesday.)

"I grew up in protest politics, so doing it on the street would be really fun," he says, during a phone interview from his London home last week. "I've spent enough time standing on the street with a bullhorn that it would feel very natural to me. It would be great theatre to do it on the sidewalk."
Here's a radio interview I did recently with Off the Hook, the 2600 show, on New York's WBAI, talking about MAKERS, maker politics, and the state of the world.
I'm giving two talks in the UK this week -- the first in Cambridge, as part of the Arcadia Seminar, held at Robinson College; the second is at Sheffield, as part of the DocFest premiere of RIP: A Remix Manifesto, a documentary on copyfighting and art that features some interviews with me. Hope to see you at them!
Cambridge: 3 November 2009, 6PM
Arcadia Seminar: 3rd Nov. "Thinking Like a Dandelion: Cory Doctorow on copyright, Creative Commons and creativity"
Umney Theatre, Robinson College, Cambridge. Please email mh569@cam.ac.uk if you are planning to attend.

Sheffield: 5 November 2009, 2:25PM-4:30PM
RiP! A Remix Manifesto
Showroom 1, Sheffield DocFest (tickets)
Update: CORRECTION -- I'm at Sheffield Doc/Fest from 1425h-1630h, not 1600-1800h as previously stated!

As promised, here's the details on the short Canada/US tour for my novel Makers in November:
November 12, 7PM
Toronto, ON, Canada
The Merril Collection of Science Fiction, Speculation, and Fantasy
239 College Street, 3rd Floor, +1 416 393-7748
Books by Bakka Phoenix
(you can pre-order signed copies from them if you can't make it).
November 16, 7PM
Cambridge, Mass
Harvard Bookstore
1256 Massachusetts Avenue
November 17, 7PM
New York City, NY
Borders Columbus Circle
10 Columbus Circle (@59th St and Central Park West)
November 20, 11AM and 1PM
Philadelphia, PA
Free Library of Philadelphia
1901 Vine Street
NOTE: The library dates are apparently not open to the public -- something I just found out. I'm really sorry!
November 20-22
Philcon, Cherry Hill, NJ
If you're with the press and you'd like to arrange an interview, please contact Justin Golenbock (USA) (Justin.Golenbock@tor.com/646.307.5413) or Katherine Wilson (Canada) (Katherine.Wilson@hbfenn.com/905.951.6600 x271).


I'm speaking at London's Battle of Ideas this Saturday, Oct 31, on a panel called "Rethinking Privacy in an age of Disclosure and Sharing." The event goes 1:30-3:30 and there are still a few tickets left!
The increasing reach of information technology into all areas of life, from social networking websites to data sharing in public services, has thrown up a number of questions about privacy. Information about our medical records, financial circumstances and shopping habits is increasingly likely to be stored in electronic media that are out of our control. Some critics worry more about Tesco's data-gathering than any 'surveillance state'. The controversy about Google Maps' Street View function, which captured thousands of unwitting people walking or standing on the streets, is a reminder that new technology constantly raises new questions about our privacy. So how worried should we be? Does the convenience of easily accessed information outweigh the danger of abuse? How are our conceptions of privacy changing? And following the success of the Pirate Party in Sweden, can we expect privacy to move up the political agenda in the UK too.
Rethinking Privacy in an age of Disclosure and Sharing
I'm launching the book in the UK at Forbidden Planet London on October 29.
I'm also doing a Canadian launch at The Merril Collection in Toronto on November 12 (7pm, The Merril Collection of Science Fiction, Speculation, and Fantasy, 239 College Street, 3rd Floor, Toronto, Ontario M5T 1R5, +1 416 393-7748), with books on sale from Bakka Books (you can pre-order signed copies from them if you can't make it).
There isn't a US launch per se, but I'll be doing a short US tour with stops in NYC, NJ, Boston and Philly, and I hope to see you at one of those dates!
Clerkenwell Tales is a great, new independent bookstore located just a few blocks from my office in London. Peter, the owner, has graciously agreed to accept orders for signed, inscribed copies of Makers. Just email or phone (+44 20 771 38135) him and tell him how many copies you'd like and what you'd like inscribed on them, and I'll drop by once or twice a week (less often if I'm out of town!) and sign all the orders.
For North Americans, I'll be doing a book launch in Toronto with Bakka Books and the Merril Collection library on (Nov 12, 7pm, The Merril Collection of Science Fiction, Speculation, and Fantasy, 239 College Street, 3rd Floor, Toronto, Ontario M5T 1R5, +1 416 393-7748), and they're glad to take orders for inscribed copies beforehand. I'll sign them all for shipping on the day.
Kevin Carson at the P2P Foundation has a great economics-centric review of Makers that really gets into some of the interesting questions raised by the book:
Taken all together, it sounds like an example of what Paul Goodman called "comfortable poverty": traditional monetary metrics of standard of living, in a time of imploding costs, have limited relevance. The main drawbacks are the uncertainty of property titles (a familiar theme from Hernando de Soto), and the undeveloped social support networks. The lack of adequate healthcare ranks high as an example of the latter concern. But with garage microfactories capable of churning out syringes and IV pumps, and plenty of underemployed MDs at a time when employer-based health insurance (in Doctorow's scenario) is likely collapsing like a house of cards, the idea of a revived system of "lodge practice," with decent quality cooperative clinics and even operating theaters run out of storefronts for credit on the shantytown barter network, seems quite plausible.

In their early days the towns of medieval Europe, growing up outside the feudal structure, probably had a flavor something like this. As old villages at strategically situated crossroads and fords began to swell with runaway serfs, and artisans setting up in business for themselves to service the revived commerce, they found themselves in an irregular legal status vis-a-vis the feudal lords in whose territories their town walls technically lay. By building walls and raising militias, federating together, and appealing to the new central governments' interest in promoting commerce, they were able to compel de jure recognition via royal charters. But state recognition followed from their prior demonstration, on their own, that they were the building blocks of the new society. In fact, until the introduction of artillery capable of battering down town walls, recognition of royal sovereignty by leagues of free towns became very nearly pro forma. That's the way I learned it from Kropotkin, anyway.