News
Here's the audio from my reading last week at the Harvard Bookstore, along with Q&A.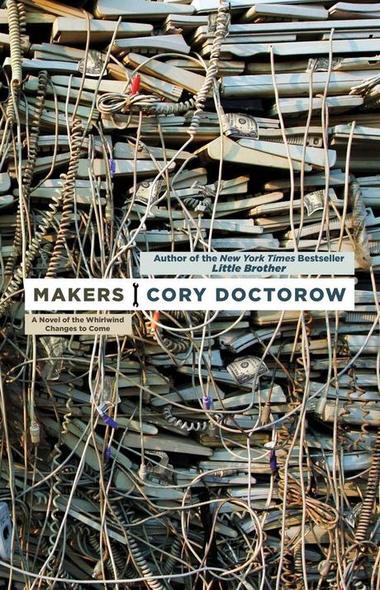 This weekend, I'll be wrapping up my US/Canada tour for Makers, my new novel, with a weekend at Philcon, near Philadelphia. I'll be signing books, doing a reading, giving a speech, and appearing on several panels. Hope to see you there!
Important note: I had previously announced a couple of readings tomorrow at the Philadelphia Free Library. It turns out that these are not open to the public (they're for school groups, which no one told me until last night). Sorry about this, folks.
Philcon: Nov 20-22
The Crowne Plaza Hotel, Cherry Hill, NJ
http://www.boingboing.net/thumbs/makersthumb.jpg
Nice piece in today's National Post about Makers and my approach to publishing:
Presently, Doctorow is in the midst of a short North American book tour promoting Makers, which, like all his work, is free to download from his website, craphound.com,under a Creative Commons licence, which allows readers to share and remix the work as long as it's not for commercial purposes. Interestingly, Doctorow doesn't accept payment from readers who've downloaded his book. Instead, he posts the addresses of libraries and schools who have requested the book and asks donors to buy them a copy instead. It's his commitment and encouragement of sharing that makes Doctorow a thorn in the side of some in the publishing industry (though it should be noted his own publisher, Tor, is part of Macmillan, which in turn is a subsidiary of the massive German conglomerate Holtzbrinck). He wants his books to be read, he wants his books to be passed around and he wants his books to be copied.

"I copy, you copy, everybody copies. Pretending we don't copy is just hypocrisy," says Doctorow, whose own early attempts at sci-fiwere pastiches of Conan the Barbarian stories and Star Wars fan fiction. "It's the 21st century: Art will be copied. If you're making art not to be copied, you're not making contemporary art. It's lovely that someone wants to be the blacksmith at Pioneer Village, but that's not my job. I'ma science-fiction writer."
Hey, New Yorkers! I'm reading from and signing my new novel Makers tonight at the Borders in Columbus Circle at 59th Street, starting at 7PM. Hope to catch you there! Philadelphians, you're next -- Philadelphia Free Library on Friday, then Philcon (in Cherry Hill, NJ) over the weekend.
I recently conducted an interview with AMCTV's Sci-Fi Scanner about my new novel MAKERS, in which we got into some nice, juicy detail about what makes Disney Parks so fascinating for science fiction treatment.
Q: So how did the concept evolve into creating a hacker Disney World in a Wal-Mart? Did it come from your other novel, Down and Out in the Magic Kingdom?

A: What it evolved out of was the incredible fun I had researching a novel set in a theme park. I've got a real interest in gadgets and doodads, and I set out to reverse engineer a novel plot that revolved around my getting to do fun stuff to research it. Amusement park rides, buying interesting junk, visiting hacker spaces, looking at 3D printers... What novel fits in there?

Q: And then you made Disney the villain.

A: Disney is essentially a privately run city that has 50,000 employees on site and does some novel social stuff as well as lots of interesting technical stuff. And in a world in which the costs of organizing people is going through the floor, Disney ends up with a product that is more expensive. What if in ten years, doing 60 percent of what Disney World does costs a tenth of a percent of what Disney World costs? At that point, Disney World is in real trouble. Disney is a thing unto itself, and science-fictionally it's bottomless.
Makers Author Cory Doctorow Explains the SciFi Allure of Disney World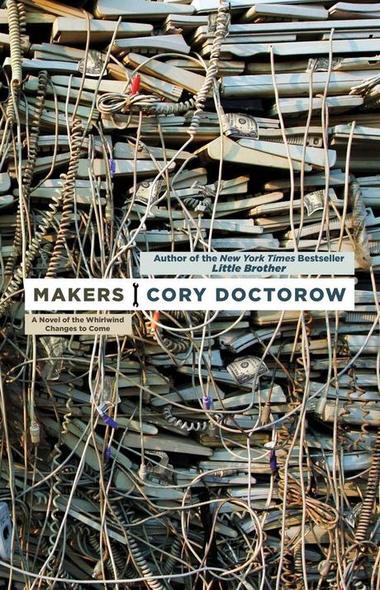 Hey, Bostonites! I'll see you tonight at the Harvard Bookstore (1256 Mass Ave) at 7PM for the US launch of my new novel, Makers! (New Yorkers, and Philadelphians -- see you later this week!)
Here's me chatting with the MakerCulture Project, a student group who came out to my launch last night. Smart folks! They also got pix.
Here's the actual reading from last night's MAKERS launch: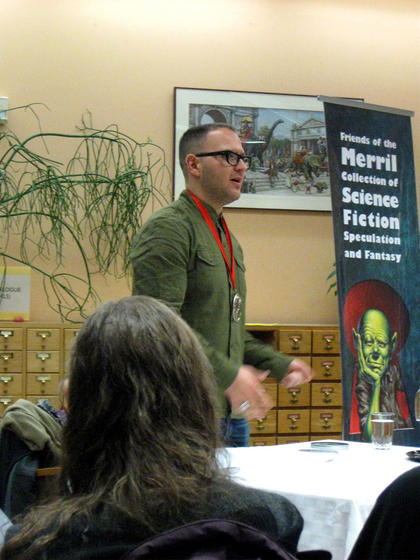 Andrew Schwab recorded last night's MAKERS launch in Toronto, a stellar event that was standing-room only, featuring free Ubuntu disks (thanks, John!), presentation of the Sunburst Award, a reading, and Q&A.

Here's last night's TVO Agenda interview on Makers -- Steve Paikin and I had a fantastic talk.