News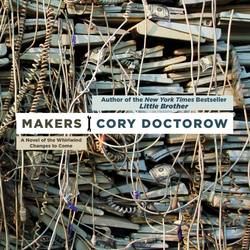 I've just set up a store selling direct MP3 downloads of the Random House audiobook for my last novel, Makers, thanks to the good offices of Random House Audio, the eShop WordPress plugin, and Mike Little, my WordPress tech guy.
The Makers audiobook runs 18.5 hours and is formatted for burning onto 15 CDs. It's read by Bernadette Dunne. I really like Dunne's reading (here's a sample) and RHA's production job is tops. The MP3s are 128K/44KHz.
I get an additional 20 percent on top of my customary royalty if you buy it from me, and you get a book that has no DRM and no crappy "license agreement" requiring you to turn over your firstborn in exchange for the privilege of handing me your hard-earned money.
Right now, sales are only available through PayPal, though I hope that'll change soon. And if this is successful, I hope to add the audio for Little Brother and my forthcoming YA novel, For the Win.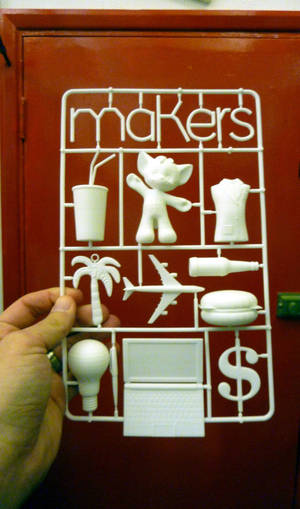 The folks at Shapeways surprised me in January with a 3D-printed version of the UK cover for my novel Makers, which had been designed by Shapeways community member Dmitry Kobzar. Mr Kobzar was good enough to release his 3D files under a Creative Commons Attribution NonCommercial license.
Now Shapeways is selling 3D prints of the cover for your delectation in a variety of materials (just in case you don't have a 3D printer of your own with which to run off a copy!). For the record, I don't get any of the proceeds from it -- I just think it's way cool.
Cory Doctorow Makers cover 3D print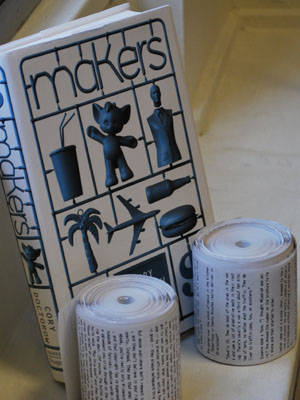 Ben O'Steen got his maker on by printing out the entire text of Makers on a cash-register receipt, using a till printer. Awesome.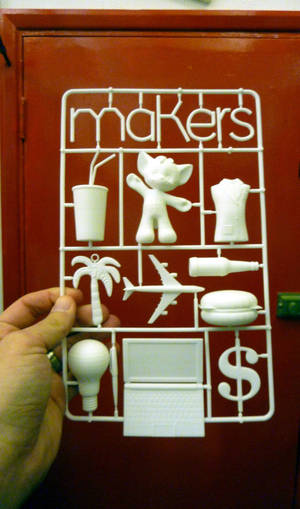 Joris Peels from Shapeways liked the cover on the HarperCollins UK edition of my novel Makers, which features a variety of objects depicted in the novel as plastic model-parts attached to a sprue. Shapeways being a custom 3D printing shop, Joris whipped up an incredibly detailed 3D version of the cover illustration, which arrived in today's post. Color me grateful, delighted and gobsmacked. Thanks, Joris!
Update: Joris adds, "The design was modeled by Shapeways Community member Dmitry Kobzar; He spent 13 hours and 7 minutes making it. He will be thrilled that you're happy with it. The reason I asked Dmitry to model it was so we could make Makers come to life just like the people in your book do."
We're going to release the model files under a Creative Commons license. Watch this space!
Shapeways 3D printed version of the UK Makers cover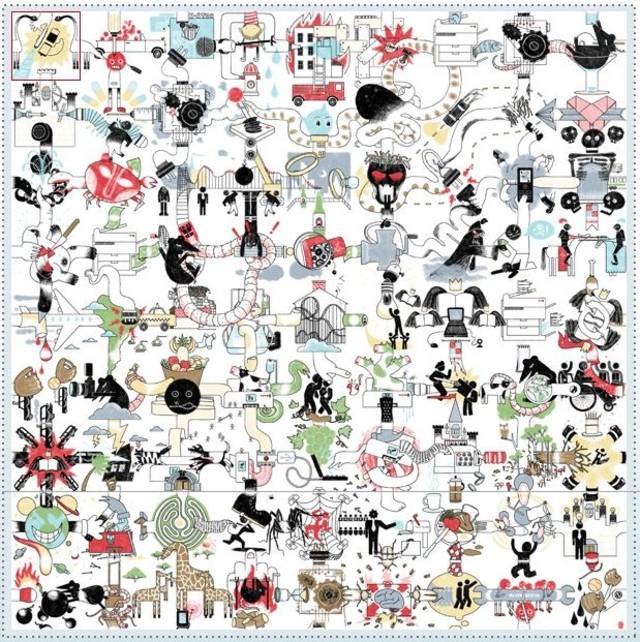 Tor.com's just posted the final iteration of the little rotating tile-game based on the Creative Commons-licensed illustrations that accompanied the serialization of my novel Makers. The 9x9 grid is truly a thing of awesome beauty.
Makers Tile Game, final 9x9 iteration now live
Each installment in Tor.com's serialization of my latest novel Makers was accompanied by a Creative Commons licensed illustration from Idiots' Books, in the form of a tile that can be interlocked with previous tiles on all four sides. We're planning to release these as a limited-edition deck of cards in the future, and we've also been releasing little flashtoys that let you play with the tiles onscreen as they were released.
Now Tor has an embeddable version, courtesy of Malloc, which you can stick in your blog or wherever you choose! Here's the code:
Makers Tile Game, now embeddable!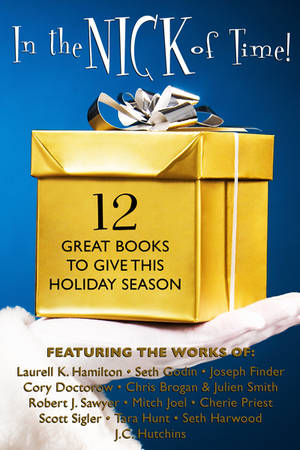 JC Hutchins -- he of the boundless energy! -- has assembled a free "holiday sampler" of excerpts from great new books, handily bundled together in a handsome PDF, well suited to loading onto your device or printing out for your Xmas holiday. In it are excerpts from recent books by some of my favorite authors, including Cherie Priest, Seth Godin, and Scott Sigler (as well as an excerpt from my latest novel, Makers.
In The Nick of Time holiday sampler (PDF)
JC's page on the project with full contents and links
(Thanks, JC!


The Guardian's Michelle Pauli has written a stupendous profile of me and review of MAKERS for today's edition:
In Makers, 3D printers are used to run off everything from homes for squatters to the fairground rides that cause the plot-twisting showdown with Disney. But, typically for a Doctorow novel, it's not as far-fetched as it might sound: the 3D world is already here. He jumps up to show me a 3D museum object, part of a bear's jaw, that was scanned and printed in six hours, and explains that he's waiting for the post to bring one of the first 3D-printed objects he's ordered online ("a beautiful big steel cross that looks like a nun's cross except that the tips are screwdriver tips and it's actually a multi-driver and it hangs around your neck from a leather thong!") "We'll have 3D printers which will make the world weird and they will beget something even weirder. 3D printers are just for starters!" he says, gleefully.

Despite his success in fiction – last year's young adult novel Little Brother was a New York Times bestseller and he has previously won the Locus award and been nominated for Hugo and Nebula awards – Doctorow is better known in some quarters for his political activism around digital freedom and open rights. He's the former European director of the Electronic Frontier Foundation, a civil liberties group that defends freedom in technology law, policy and standards; he co-founded the UK Open Rights Group; and he's currently campaigning on the government's draconian digital rights bill. Both sides of his work come together in his novels, not just in terms of subject matter but in the way they are distributed. Although published by mainstream presses, Doctorow also releases all his books for free download from his website under a creative commons licence, and talks enthusiastically about the uses people have made of these free online versions of his books, from foreign translations and student films to a teacher in a Detroit school for the blind who was able to run the download of Little Brother through the school's Braille embosser for her students without having to painstakingly retype the whole book first.
I did a really fun interview on Makers and the writing process for the Bazooka Joe podcast, which has many other interesting writers in this latest instalment (Annalee Newitz, JC Hutchins and Steve Eley).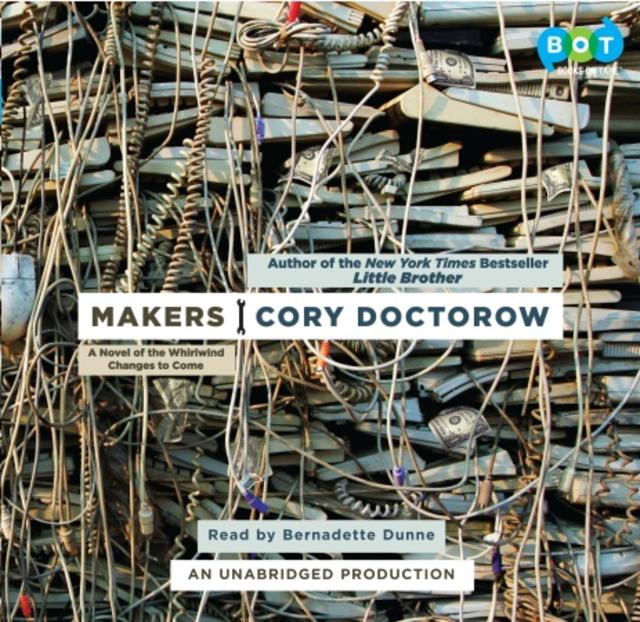 The audiobook of my latest novel, Makers has been published by Random House Audio, strictly in DRM-free formats over the net (this means that Apple won't carry it in the iTunes store, even though Audible was willing to carry it without DRM).
The reading is by Bernadette Dunne, a very talented actor. I just listened to this for the first time yesterday and I was blown away by Dunne's reading. I'm a huge audiobook nut, and I'm incredibly glad to have professional audiobook adaptations of my books from Random House -- and doubly grateful to them for supporting my commitment to DRM-free distribution. When you buy this book, you own it. The "terms of service" are "Don't violate copyright law," not "By buying this audiobook, you agree that we get to come over and kick you in the ass."
Makers, read by Bernadette Dunne
Buy Makers Audiobook on Borders