Stories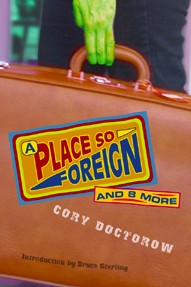 A collection of my stories, called A Place So Foreign and Eight More was published by Four Walls Eight Windows in September, 2003. Six of the nine stories are available for free download under a Creative Commons license, and the book is selling briskly.

---
On Spec
Podcast: Part 1, Part 2, Part 3
This story appears in my short story collection A Place So Foreign and Eight More and is licensed for downloading under a Creative Commons license. Download it here
This is part of the cycle of stories that started with Shadow of the Mothaship and continued in Home Again, Home Again.
I've written usuccessful fiction inspired by my activist past for years, but I think I've finally nailed it. I'm sure glad it's found a home.
More …
---
Starlight 3, edited by Patrick Nielsen Hayden, Tor Books
I've been trying to break into Starlight for, oh, six or seven years. For my money, it's the best original sf anthology I've ever read, and I'm unspeakably pumped to finally sell Patrick a story.
No less spectacular are the circumstances under which Patrick accepted the story: it was at the reception before the Hugo Awards, and I was in a state of barely contained panic. Patrick said, "Hey, I keep forgetting to tell you -- I want to buy your story for Starlight" -- an hour later, I won the Campbell Award, and that was possibly the only thing that could've eclipsed my ecstasy over selling this piece.
I wrote this story while stuck in a hotel room in Montreal, working for an ad agency.
More …
---
Asimov's (with Michael Skeet)
This is the first collaboration I ever wrote, and man, am I glad I did.
I wrote the first part of this story as a sort-of response to Heinlein et al's "bootcamp" stories; that is, stories about personal transformation brought on by violent, abusive training experiences. Having had some bootcamp-experiences (Clarion, for one, not to metion working on behind-deadline software projects), I had some opinions on the subject.
Having written the first half, I was hung up on an ending -- or even a decent middle. At Judith Merril's memorial party at the Bamboo Club in Toronto, I found myself in the buffet queue with my workshopmate Michael Skeet, bemoaning this state of affairs. He remarked that he had quite the opposite problem -- he couldn' get started, but he did great endings.
So I sent him the story's start. He's a busy guy, and it was about a year before I saw the story again. I was enchanted. Michael had picked up the story's thread beautifully, and had run with it, taking it nearly to conclusion. I sent it back to him with a note or two and he went back to work.
In Spring 1999, my workshop -- the Cecil Street Group -- went away for a weekend-long writing retreat. Michael and I finished the story over the weekend, and a few months later: success!
It was immensely gratifying working with a collaborator. I really felt like the whole was more than the parts.
My favorite story here was "I Love Paree" by Cory Doctorow and Michael Skeet. This is set in fairly near future Paris, during some sort of civil war, in which one side is some type of rabidly pro-French traditions group. The narrator is a Canadian who makes money by analyzing patterns of data. His young female cousin is visiting, and he's showing her the nightlife when the nightclub they are in is raided by the radical group. Everyone is "conscripted", which for the men, mainly means service as cannon fodder. For pretty young women, something else, of course. As for the narrator, he works his way into a job using his analysis skills, all the while trying to find and save his cousin. It's tense and exciting and imaginative.

Rich Horton, Tangent Online

Another action tale is "I Love Paree," a nifty collaboration by Cory Doctorow and Michael Skeet. With a fine line in post-modern cultural humour after the manner of Bruce Sterling, this novelette examines how the patriotic extremists of near-future Paris, alarmed by the submergence of their culture under Euro-Disney and American fast food franchises, commence a violent revolution dedicated to the rebuilding of the old metropolis, the place of baguettes, cafes, and Edith Piaf. Two Canadians, including the rather jaundiced narrator, are kidnapped by the Communards and conscripted into the struggle for Gallic purification. Personal and political outrage fume beneath the wisecracking; again, justice is at stake, and without it, patriotism is meaningless. But such as the Communards will never heed such lessons.

Nick Gevers, SF Site
---
Frequency Magazine, Volume 3
Jeremy Bloom is a fellow Torontonian-cum-Californian, a starry-eyed sf writer who went to Hollywood to write screenplays. His latest venture is Frequency Magazine, this really cool audio anthology on CD, featuring really tasty theatrical productions of short stories. I'm an audiobook addict -- I can't clean the toilet, drive a mile, or fall asleep without an audiobook in the background -- and I've always dreamed of having one of my stories produced professionally. This kicks ass.
More …
---
Realms of Fantasy
This story appears in my short story collection A Place So Foreign and Eight More and is licensed for downloading under a Creative Commons license. Download it here
Podcast: Part 1, Part 2, Part 3, Part 4
This is the story of the ogres who run the concession stands on Pleasure Island, where Pinnocchio's friend Lampwick turned into a donkey. Like much of my stuff, this has a tie-in with Walt Disney World; the idea came to me on the Pinnocchio ride in the Magic Kingdom, in 1993.
I went back and reviewed the original novel, in two translations, and found that Pleasure Island was a scary, scary place. During this time, I spent a lot of time listening to the creepy voiceover on "High-Diddle Dee-Dee" on Stay Awake, a wonderful Disney tribute album. The result is what you see below.
Like many of my recent stories, "Return" deals with self-indulgence, discipline, and attenuated attention-spans.
More …
---
Interzone
Adbusters Magazine, July/August 2005
Podcast
Boy, it's great to sell this one. I wrote it in a weekend while stuck in a hotel room in Montreal, while I was doing work for an ad agency. I'm afraid the ad business has a tendency to encourage a degree of cynicism...
The original title of this story was "From Heel to Babyface and Beyond: The Re-branding of Billy 'Beetle' Bailey," but it got truncated during a couple passes through both my home workshop and the Gypsicon gang.
This stuff is over the top, of course, like all satire. But it's successful because it's played with a perfectly straight face, and because the story is thick with details that buttress the theme and keep the reader smiling and grimacing: the sponsored grade school classes, the worry about competing with 8th graders when you graduate to 7th grade, even the well-chosen character names. This is very well-crafted, very entertaining, very satisfying story.

Rich Horton,
Locus Magazine

The other standout is by the 2000 John W. Campbell Award Winner for Best New Writer, Cory Doctorow. "The Rebranding of Billy Bailey" is a very clever and funny story which takes an off-kilter notion and plays it for all it's worth. Billy Bailey is a 6th grader who specializes in being a "heel", or a class brat. The thing is, that's a commercial decision: he has an agent, his Dad is his VP Operations, all his pranks are decided on the basis of how they will affect his media profile, etc. The story revolves around a prank which gets blamed on him unfairly, and which will affect his "brand". Perhaps he needs a new brand? This is consistently funny, and the satire is consistently on target. I really liked this piece: in my opinion, it's the best story so far by an already very promising new writer.

Rich Horton,
Tangent Online

I think the best short story Interzone published this year was "The Rebranding of Billy Bailey" by Campbell Award winner Cory Doctorow. I also discussed this story in the Locus essay mentioned above. It's clever satire about school kids commercializing their images, and it works smartly throughout.

Rich Horton,
Duelling Modems
---
Asimov's
This is one of three stories I've sold about the time I spent volunteering on sustainable development projects in Costa Rica with an organisation called Youth Challenge International.
The village I lived in, Caño Rito de San Jorge de Upala, was about 40km from the nearest road, generator, water-pump, and telephone. Our lone technology was a shortwave radio with a solar-charger that only worked for about an hour a day.
Strangely enough, I loved it. Me, Mr. Technocrat, having the time of my life digging latrines and mixing concrete with shovels, making gravel by smashing volcanic boulders with hammers.
Ever since, I've been obsessed with the idea of returning with a solar-powered laptop/sat uplink rig, living in the middle of the jungle, technologically plugged in without living technologically.
More …
---
Science-Fiction Age
This story appears in my short story collection A Place So Foreign and Eight More and is licensed for downloading under a Creative Commons license. Download it here
When I sold this, it was the longest story I've ever sold, at 18,000 words. By a very happy coincidence, I sold it to the highest-paying market in the business.
I owe much about this story to the Great Brain books of John D. Fitzgerald. This autobiographical children's series captured my imagination when I was a boy, and I find myself returning to them again and again.
More …
---
Amazing Stories 599
This story appears in my short story collection A Place So Foreign and Eight More and is licensed for downloading under a Creative Commons license. Download it here
Podcast: Part 1, Part 2, Part 3
I wrote this strange, stylised Scientology/Alien-Invasion/Oedipus story at a Gypsicon, the writers' workshop that gave rise to Craphound and Visit the Sins.
Now, you're not supposed to play favorites, but, just between you and me, this is one of my all-time favorite stories. I loved writing it, and I'm delighted to see it heading for print.
More …
---
Tesseracts 8, Tesseract Press
This story appears in my short story collection A Place So Foreign and Eight More and is licensed for downloading under a Creative Commons license. Download it here
Podcast: Part 1, Part 2, Part 3
This story is a sequel, of sorts, to Shadow of the Mothaship, which Kim Mohan published in Amazing Stories.
I got the idea for this while snorkeling in the Bay of Pigs, on the south coast of Cuba. I'd just gotten out of the water and picked up E.L. Doctorow's brilliant Book of Daniel, when the entire story smacked me between the eyes. Once I returned, I sweated blood for a month, cranking out the 10,000 words -- I had this tremendous vision of the effect I was trying to capture, but implementing it was trickier than it appeared. I finished it on a Sunday afternoon, read it through twice, and decided it was the best thing I'd ever written. I've just re-read it, prepatory to emailing the manuscript to Tesseract Books, and I still think it's brilliant.
More …
---