News

Rock band Wintergreen's latest video — "Can't Sit Still," directed by Keith Schofield — features one of the musicians reading a copy of my latest short story collection, Overclocked. Sweet!
(Thanks, Terry!)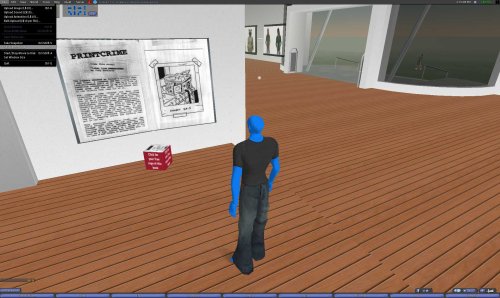 Michael Buckbee, proprietor of a "Fabjectory" (Bruce Sterling's neologism "fabject" + "factory" = Fabjectory) has created a Second Life version of the print-and-fold minicomic of Printcrime, created by talented comics artist Martin Cendreda (the story appears in my collection Overclocked. He sez, "We use rapid prototyping machines to create real life objects from the avatars and sculptures that people make in SecondLife and I've been vainly trying to explain to people that this isn't so much about creating expensive immobile dolls for people as it is breaking ground for a new way to interact with the world, something Print Crime does so well."
Screenshot Link 1, Screenshot Link 2
Ariel Maidana has produced a Spanish fan-translation of Printcrime, the short-short story that opens my latest collection, Overclocked. Like all the stories in that book, Printcrime is licensed under a Creative Commons Attribution-NonCommercial-ShareAlike license that encourages readers to play with, remix and adapt the text.
Los policías machacaron la impresora de mi padre cuando yo tenía ocho años. Recuerdo su olor como de papel film recién salido del microondas, y la mirada de feroz concentración de Pa cuando la llenaba con pasta fresca, y el aire cálido, como recién horneado, de los objetos que salían de ella.

Los policías entraron por la puerta agitando sus porras, uno de ellos recitando los términos de la orden de allanamiento con un megáfono. Uno de los clientes de papá lo había vendido. La ipolicía pagaba en fármacos de alta calidad — mejoradores de rendimiento, suplementos para la memoria, estimulantes metabólicos. La clase de cosa que cuesta una fortuna sin receta; la clase de cosa que podrías imprimir en casa, si no te importara el riesgo de tener tu cocina llena con una súbita aglomeración de cuerpos grandes y robustos, grandes porras agitándose en el aire, machacando a cualquier persona o cosa que se pusiera en su camino.
Pavol Hvizdos, a Slovak speaker, has translated three of my books into Slovakian — Down and Out in the Magic Kingdom, Someone Comes to Town, Someone Leaves Town, and Overclocked. The translations are Creative Commons licensed for your remixing and sharing pleasure.
I can't tell you how awesomely cool it is to have readers spontaneously undertake major translation projects just for the fun of it. I believe that sharing my books under CC licenses inspires my readers to promote them, and this is the proof that it works. w00t!
I could not be happier right now! My novella, When Sysadmins Ruled the Earth (published in my collection Overclocked) just won the Locus Award for best novelette of 2006. A million thanks to everyone who voted for it — I've got a 12h plane ride coming up, and this'll keep me warm the whole way.
Also: check out the awesome company I'm in: Vernor Vinge and Ellen Kushner and Charlie Stross and Neil Gaiman and Terry Pratchett and Naomi Novik!
This is the third Locus Award I've won in a row. A million thanks to Eileen Gunn for delivering this acceptance speech on my behalf: "Systems administrators are the unsung heroes of the twenty first century, our tireless morlocks who keep the entire universe running. The best sysadmins I've met treat their jobs as holy callings. They understand that they're keeping the infrastructure of the information age alive and functional.
Many thanks to my sysadmin, Ken Snider, and to all the other sysadmins who make my life possible. And many thanks to Jim Baen and Eric Flint for publishing this. "
Best Science Fiction Novel:

Rainbows End, Vernor Vinge (Tor)

Best Fantasy Novel:

The Privilege of the Sword, Ellen Kushner (Bantam Spectra)

Best First Novel:

Temeraire: His Majesty's Dragon/Throne of Jade/Black Powder, Naomi Novik (Del Rey; Voyager); as Temeraire: In the Service of the King (SFBC)

Best Young Adult Book:

Wintersmith, Terry Pratchett (Doubleday UK; HarperTempest)

Best Novella:

"Missile Gap", Charles Stross (One Million A.D.)

Best Novelette:

"When Sysadmins Ruled the Earth", Cory Doctorow (Baen's Universe 8/06)

Best Short Story:

"How to Talk to Girls at Parties", Neil Gaiman (Fragile Things)
Midnight.Haulkerton, the band that recorded a song based on my collection Overclocked, have just released the song elements themselves under a CC license for your remixing pleasure. Joel Falconer from Midnight.Haulkerton sez,
Today, we released the remix pack for the Overclocked song. Now listeners can remix, re-sing or do whatever they want with it. All the individual tracks that make up the song have had all their effects stripped and are now stuffed in a zip.
Jesse has created a podcast feed containing all the stories from my collection Overclocked — these all appeared on my podcast, but not in a neatly packaged form like this. Here's the feed. Thanks, Jesse!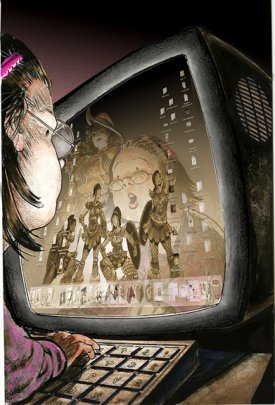 I mentioned back in March that IDW comics is doing a series of six comics based on my short stories, with a Creative Commons-licensed collection at the end of the series. I've just gotten my first cover for the series, for my story Anda's Game, designed by kick-ass comics artist Sam Kieth. Man, that's h4wt, and the script, written by Dara Naraghi (I blogged his webcomics back in October), is fantastic.
Verbotomy, an online game that challenges people to invent words, create definitions for them, and use them in sentences, is using my short story collection Overclocked for its raw material this week — they've come up with some great words already!

Mimeopath
Created by: toadstool57

Pronunciation: mim-ee-oh-path

Sentence: Jill did a mimeopath of herself in her prom dress, handing it out to everyone she knew and didn't know.

Etymology: mimeograph, psychopath





The finalists for the Locus Award for the best science fiction of 2006 have been announced and I'm proud as anything to announce that two of my novelettes made the shortlist, I, Row-Boat and When Sysadmins Ruled the Earth (both are from my new collection Overclocked). The list is filled with really wonderful fiction. As I mentioned before, 2006 was a banner year for sf.
(via Memoirs of a Vulture Princess)