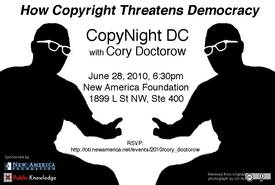 Hey DC! Tor Books is bringing me to your area for the American Library Association conference this coming weekend, and while I'm in town, I've signed on to do a couple of public events I hope to see you at!
On Sunday, June 27 at 3PM, I'm speaking at Red Emma's books in Baltimore, in an event co-sponsored by the Baltimore Node hackerspace.
On Monday, June 28 at 6:30PM, I'm speaking at a special edition of DC Copynight, co-sponsored by Public Knowledge and hosted by the New America Foundation. Many thanks to Thomas "cmdln" Gideon of DC Copynight for setting this up!
Both events are free!
---
Leave a Reply