News
Jesse2014 writes:
'For The Win' was incredibly exciting and inspiring. It is not the first book of yours that made me feel that way, but it was the difference in motivating me to become a small part of the movement to use gold farming for development and freedom. The kind of stuff you were writing about seems so possible.

So I've created a wiki where people might work together to undertake the quest. I wanted to let you know because of your huge role in this already.

My next plan is to help build a free online marketplace where some kind of 'fair trade' gold/power-leveling can be exchanged. I'd like to make this website as open and collaborative as possible so that anyone can improve and build on it. Then to help gold farmers get access to computers, games and bandwidth that don't come with the same requirements of their current bosses - donated for free, that they can use on their own terms.

There will be many challenges on the way but I believe it will be worth it. As you said, we can all lead ourselves.
Reminder: I'm doing a live reading in Berlin tonight at 2000h (Sankt Oberholz, Rosenthaler Str. 72, Berlin Mitte). Chüs!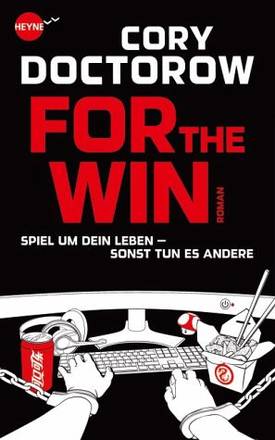 I'm heading to Germany next week for a series of school visits and public appearances to promote the German edition of my novel For the Win. I'm doing public stops in Hamburg (Nov 7, 10AM, Hamburger Kinderbuchhaus im Altonaer Museum), Berlin (8PM, Sankt Oberholz), and Munich (7PM, Lovelybooks, livestream available). Full details at the RandomHouse.de site.
Here's a two-part video interview that Ken MacLeod conducted with me earlier this week at the Edinburgh Book Festival for the ESRC Genomics Policy and Research Forum. We chatted gold farming, post-industrial manufacturing, For the Win, UK riots and social media censorship.
The nice folks at Colbyjack have begun a free, Creative-Commons licensed fan podcast serial of my novel For the Win. The first of 37 installments is here (here's the MP3), and the RSS feed for the podcast is here. (And don't forget, you can get a DRM-free MP3 of the official, Random House audiobook, expertly read by the excellent George Newbern, direct from me, or from your favorite audiobook retailer)

Anastasia Salter gave a presentation on my novel For the Win at the Children's Literature 2011 conference; I haven't seen the presentation, but her notes (embedded above) are fascinating!
Tim "Undercover Economist" Harford's feature with FiveBooks lists five "unexpected economics" books, including my novel For the Win:
It is for young adults – it's an adventure-action story, it's not that complicated. But it's very well done and conveys a lot of really interesting economic ideas very well. For instance there's the impact of globalisation, the possibility of bubbles occurring in economic systems, the idea of the race to the bottom, of sweatshops and the role of unionisation. Really key economic ideas.

Of course there are a lot of economic ideas that are not in the book. I would also say that Cory is well to the left of where I am. He thinks trade unions are incredibly important – I'm not so sure. But I was very impressed by the way he could take this novel and convey all these economic ideas without slowing the action down. There have been people who have tried to create works of fiction with an economic message – notably Ayn Rand, who has just had a film made about her work – but Cory has really done it very well. It's a tremendous and very admirable achievement.
This week, I was delighted to learn that my novel For the Win was one of three young adult novels selected for the the Kansas National Education Association's Kansas State Reading Circle list; and then to learn that the Vermont School Library Association, Vermont Library Association and the Vermont Department of Libraries had awarded the state's Green Mountain Book Award to my novel Little Brother, this being a readers' choice award for students in grades 9-12. My sincere thanks to the readers, teachers and librarians who've chosen my books for these honors -- they mean the world to me.
Just got word that For the Win is a finalist for the Prometheus Award, presented by the Libertarian Science Fiction Society; having won this once for Little Brother, and considering the fantastic books on this year's shortlist and in the winner alumni, I couldn't be more thrilled!
In this Clarkesworld interview, conducted last year during my tour for For the Win, Jeremy Jones and I talk about the rigors of touring, the politics of labor, and the elusive Drama Hobbit.
Have there been any strange moments?

There've been a couple pretty weird ones. I've had two funny misunderstandings. A friend of mine was interviewing me for the Guardian over Skype at six in the morning in San Francisco. It was later in the day for her, obviously, and luckily she's a good friend. I forgot the camera was on and answered the phone naked. I'd been up since five but I hadn't gotten dressed yet.

The other funny bit was when a guy came to my signing in Austin and I said, "What would you like in your book," and he said, "Drama Hobbit." I said, "Drama Hobbit?" And he said, "Yeah," so I drew him the most dramatic Hobbit I could. I'm not much of a drawer and I said, "There you go!" And he said, "No, no, draw Muhammad." Well, nobody knows what he looks like...