Podcast
My podcast is a regular feed in which I read from one of my stories for a few minutes at least once a week, from whatever friend's house, airport, hotel, conference, treaty negotiation or what-have-you that I'm currently at. You can get the Podcast through iTunes. Alternatively:

Podcast files an Oggs, streams, and different bitrate MP3s
---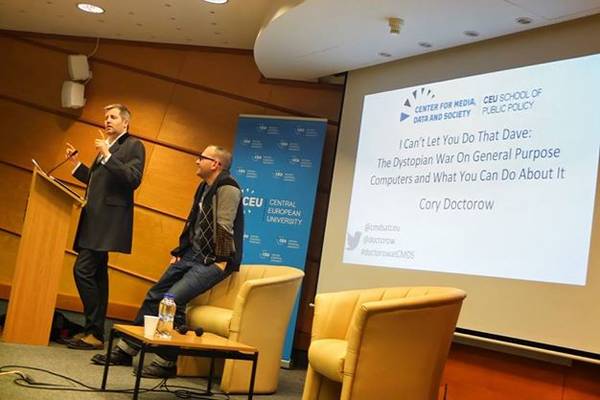 Here's the audio from last night's talk on the Internet of Things at Central European University in Budapest! It was recorded by the Mindenki Joga Radio Show.
---
It's that time again! School is out, but I'm still working, so the kid came to the office with me, just in time to record a new podcast. This year, Poesy performs a stirring rendition of Jingle Bells, with dirty words!
---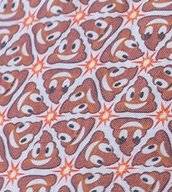 I've posted the first chapter (MP3) of Wil Wheaton's reading of my book Information Doesn't Want to Be Free (which sports introductions by Neil Gaiman and Amanda Palmer!), which is available as a $15 DRM-free audiobook, sweetened by samples from Amanda Palmer and Dresden Dolls' "Coin-Operated Boy."
In sharply argued, fast-moving chapters, Cory Doctorow's Information Doesn't Want to Be Free takes on the state of copyright and creative success in the digital age. Can small artists still thrive in the Internet era? Can giant record labels avoid alienating their audiences? This is a book about the pitfalls and the opportunities that creative industries (and individuals) are confronting today — about how the old models have failed or found new footing, and about what might soon replace them. An essential read for anyone with a stake in the future of the arts, Information Doesn't Want to Be Free offers a vivid guide to the ways creativity and the Internet interact today, and to what might be coming next.
---
Radio New Zealand National's This Way Up recorded this interview with me, which airs tomorrow (Saturday), about my book Information Doesn't Want to Be Free (MP3).
---
I just appeared on the Command Line podcast (MP3) to talk about Information Doesn't Want to Be Free -- Thomas and I really had a wide-ranging and excellent conversation:
In this episode, I interview Cory Doctorow about his latest book, "Information Doesn't Want to be Free: Laws for the Internet Age." If you are interested in learning more about the topics we discuss and that that book covers, you can also check out books by the scholars we mention: Lawrence Lessig, James Boyle and William Patry. I compared Cory's book to "The Indie Band Survival Guide" the authors of which are friends of the show whom I have also interviewed.

The audiobook version of the book is already available. Check Cory's site, the free download and electronic editions should be available soon.
---
I appear in the latest edition of the Writing Excuses podcast (MP3), recorded live at Westercon in Salt Lake City last summer, with Mary Robinette Kowal, Brandon Sanderson, Dan Wells and Howard Tayler, talking about why we care about characters.
---

Last month, I sat down for a long conversation (MP3) with Ken Jones for the Between the Covers at Portland, Oregon's KBOO community radio station, talking about my book Information Doesn't Want to be Free. They've posted the audio so people from outside of Portland can hear it too!
---
I'm heading to Ann Arbor, DC and Baltimore this week for a series of talks -- I did a a quick interview with Baltimore's WYPR (MP3) that came out very well!
---
Here's an MP3 of the audio from the Reigniting Society's Ambition with Science Fiction event that I did with Neal Stephenson and Ed Finn at Seattle Town Hall on Oct 26, to promote the Hieroglyph anthology, designed to inspire optimistic technologies to solve the Earth's most urgent problems. I had a story in it called The Man Who Sold the Moon.
---

I sat down at New York Comic-Con with Aaron from The Geekcast podcast for a long, interesting interview (MP3) on a wide variety of subjects about art, computers, games and justice!
---