Stories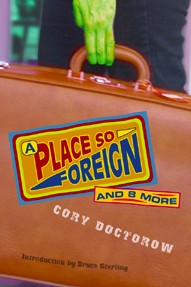 A collection of my stories, called A Place So Foreign and Eight More was published by Four Walls Eight Windows in September, 2003. Six of the nine stories are available for free download under a Creative Commons license, and the book is selling briskly.

---
On Spec
Like Craphound, Visit the Sins and Shadow of the Mothaship, I wrote this story at Gipsycon, the post-Clarion summer workshop I attend every year. There's another Clarion connection: the title for this story was conceived of while at the Clarion 30th anniversary reunion, as I sat in the Owen Hall courtyard with a gang of other Clarion grads and talked about the memories the place brought back, discussing the possibility that we were being bombarded with "recollectons," the fundamental units of memory.
More …
---
Asimov's
Year's Best Science Fiction 5, HarperPrism 2000, David G. Hartwell, Ed.
This story, which I sold today, October 26, 1998, completes my Asimov's hat-trick: three stories to Asimov's in just over a year.
I wrote this while at Gipsicon '98, a writers' retreat founded by my Clarion classmate, Janis O'Connor. We meet in a different city every summer, in a rented University dorm or schoolhouse, and write and critique our heads off. I heartily recommend this experience: I write my best stuff during that week (I wrote Craphound at Gipsicon '97).
This story was written in a blind panic, terror inspired by a heinous writer's block that had me chewing my toes at the prospect of not finishing a story while at the workshop. So I did what I always do when I feel blocked: I went and saw a bunch of bad movies, which bored me to the point where I could write again -- about boredom.
A note for my folks: although this has parallels to my family -- my grandfather just went into a home -- this is by no means an indictment of my family, who are wonderful people.
You can read the whole story online at Strange Horizons.
More …
---
Asimov's
Gardner Dozois was the first editor I ever sent anything to, in 1987, at the tender age of 16, a story called "Birdblood." Over the following decade, Gardner saw virtually everything I wrote -- and rejected it all.
In August, 1997, I went out to my mailbox and extracted a SASE with "Grace, Asimov's" scrawled on the back in my hand. "Damn," I thought, "another reject. Wonder if Van Gelder will buy it?"
Standing in the driveway, I opened the envelope. I read the letter. The first three paragraphs told me why he didn't think he should buy it -- not really sf, in a nutshell. The last one said that he was buying it anyway.
I freaked. There's no other word for it. I whooped and did a barefoot dance in the driveway of the factory that I live in, then ran down the hall, screaming like an idiot. I burst in on my neighbours, who were entertaining a new client, and screamed and screamed and screamed. Eventually, I managed to let them know what had transpired, and they congratulated me roundly and offered me a beer. Then I called everyone I knew and screamed.
That was a great day.
A month later, Gardner bought another one, "At Lightspeed, Slowing, another story set in Costa Rica, where I spent a lot of time in 1993 as a volunteer on a Youth Challenge International project.
When the October/November double-ish of Asimov's arrived in my mailbox, I whooped all over again, rubbbed my contrib copies all over my body, and then signed one, "To Cory, You Big Stud, You Rock!"
More …
---
Odyssey
The characters in this one originated in "The Adventures of Ma N Pa Frigidaire", and I'm thrilled to see them finally making their way into print. Normally, I don't write more than one story in a given world or about a given character, but Dometown and its residents are stuck in my brain, and I think you'll be seeing more of them.
More …
---
Tesseracts 7, Tesseract Books
This is the culmination of what I call my "Jesus period," in which a nice Jewish boy like me wrote story after story about Jesus. Most of 'em frankly stank. This one didn't. It's not just the experimental style (which I first encountered when we workshopped Jeff Vandermeer's "At the Crossroads, Burying the Dog," at Clarion 92), it's the feeling. I think that this is the creepiest story I've ever written -- the closest I've ever come to horror.
More …
---
Science-Fiction Age
Year's Best Science Fiction XVI, Griffin, 1999
Northern Suns, Tor, 1999
Podcast, Escape Pod, January 2006
Podcast, Literal Systems, July 2008
Podcast, Roy Trumbull, September 2008
Finalist, Aurora Award for Best Short Form Work in English, 1999.
Finalist, Theodore Sturgeon Memorial Award for Best Science Fiction Short Story of 1999.
This story appears in my short story collection A Place So Foreign and Eight More and is licensed for downloading under a Creative Commons license. Download it here
German translation (Christian Spließ)
Everything in this story (except the part about the alien) really happened. I love thrifting, I love yard-saling, I love junk. I moved into a huge warehouse space in Toronto nearly three years ago, and I've been steadily filling it ever since. There's the wall of Sputnik clocks, the tiki bar, the 15' high library, the deck, the chinoise figurines, the Disneyland board games, and so on ad nauseum.
This was my first professionally published story (though it was my second sale -- Gardner Dozois bought "Fall From Grace" a month earlier, but took eight months longer to publish it, and the response has been overwhelming. David Hartwell and Glenn Grant have bought a revised version for reprint in Northern Suns, the sequel to Northern Stars, a hardcover antho of the best of Canadian sf.
A short-story crossed the transom recently that did a gret job of capturing the ever-shifting dynamics of of thrifting -- the hunt (fruitless and otherwise), competition, karma issues, value relative to the marketplace or sentiment, the past lives/memories of used goods. The tale in in a science fiction mag, but it read like my actual life! Track it down an dig it. "Craphound" by Cory Doctorow, published in the March 1998 issue of Science Fiction Age.

Al Hoff, Thrift Score Magazine #12

One of the short stories published in this issue proves my point. Hidden recently amongst the many hundreds of short stories that pour in each month was "Craphound," Cory Doctorow's tale of a decidedly different alien contact. "Craphound" is Doctorow's first professionally published short story. In answer to the folks who think that editing is simple -- "just read the submissions from the big names," they sometimes say -- it's finding the stories from folks at the beginning of their careers that is the most important and most rewarding. With those evil book publishers stealing short story writers and forcing them into highpaying careers as novelists, the science fiction magazines will always depend on those just starting out.

Scott Edelman, Editorial, Science Fiction Age, March 1998

The two best stories in the March SF Age, in my opinion, were Cory Doctorow's "Craphound" and Robert Silverberg's "The Colonel in Autumn." Like most aliens-mingling-with-human-society stories, Doctorow's story serves mostly to hold a mirror up to human nature, but the odd corner of human nature it examines is fascinating, and the story is smoothly and expertly written, with some good detail and local color and some shrewd insights into human nature and human culture, and an almost Bradburian vein of rich nostalgia running through it (although the nostalgia is quirky enough that perhaps it might more usefully be compared to R.A. Lafferty or Terry Bisson than to Bradbury); one of the more accomplished performances so far this year.'

Gardner Dozois, on GEnie

Aliens have once again decided to visit Earth in this lighthearted romp. Rather than having conquest on their minds, they merely wish to visit, and explore. Jerry is a junk dealer, a collector, a pack rat of crap and antiques and memorabilia, depending on your point of view. He knows what to look for and how to resell it for a profit. He befriends one of the visiting aliens, who he has named "Craphound," and they become great pals as they visit flea markets, auctions, and garage sales, always in search of the oddment or bauble only the keen eye of the true collector can spot. Through good times and bad, we learn the inner workings of the collecting business, including the unwritten moral code of the collector toward his brethren. The real lesson is learned, however, from the amiable and wiser-than-he-seems Craphound just as the aliens decide to take their leave of Earth, that the true worth of something is not judged by its dollar value. "Craphound" is a pleasant, likable, satisfying story. It is a nice professional debut for Cory Doctorow and kudos to editor Scott Edelman for rescuing it from his slush pile.

Dave Truesdale, SF Site
---
On Spec
Claire Eddy, an editor at Tor, treated me and Rob Stauffer and Mary Turzillo and Terry McGarry to dinner at ConAdian in 93. I was overwhelmed to be enjoying a meal on a Real New York Editor's expense account.
Over dinner, Rob Stauffer recounted a hilarious episode from Daniel Pinkwater's Chicago Days/Hoboken Nights where Pinkwater licks a sarcophagus. Nonsensically, I said, "It's all fun and games until someone licks the sarcophagus," and Claire said, "I'd buy a story that had that as its first line."
Well, I couldn't make it the first line, and I couldn't make it into a novel, but I did manage to sell it.
More …
---
On Spec
For some reason, this appeared in a Hard SF ish. I wrote it after reading a wonderful history book called Flappers, Bootleggers, Typhoid Mary and the Bomb. Gardner Dozois gave it honorable mention in his 1994 Year's Best SF, but didn't buy it for Asimov's. Go fig.
More …
---
Air Fish, Cat's Eye Press
The title comes from a sign near the streetcar turn-abouts here in Toronto, "Caution, Cars Swing." Which always struck me as funny -- cars revving it up at a juke joint, blowing hot licks.
The original publication of this was in Joy Oestricher's small-press Air Fish antho, which got launched at ConFrancisco in 1993, the summer after my Clarion. It feels wonderful to wander around a WorldCon with a fresh publication under your arm.
This was reprinted in September 1998, in Intangible a small-press surrealist 'zine. I haven't gotten my contrib copy yet (I was out of town for the launch party), but Wendy Yano, the editor, was a treat to deal with.
More …
---
Pulphouse 12/13
Dean Smith and Kris Rusch brought the proofs for this to my Clarion. I've got a great pic of me grinning like an idiot, drooling over them. This was the second story I ever sold, and it ran in one of the very last issues of Pulphouse.
I wrote this story while I was living in Mulégé, Mexico, in the Baja. I went down when I was seventeen, to stay with a friend's mom who was running a pizza joint. I worked for a while as a night-watchman for the pizzaria, which had been a brothel in a previous life. I'd sleep on a grimy futon on the floor with a machete nearby, surrounded by the menagerie from the petting zoo out back (goat, cats, dogs, and a pig), and tell drunks that there were no hookers to be found there anymore.
Eventually, I moved to a little house on top of a little mountain, and spent every day out in the sun, writing and watching the village below. It was a wonderful time.
More …
---