About Cory Doctorow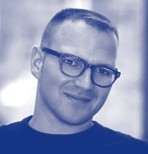 photo by Derryl Murphy
(Click image for high-res version)
Note: This is the bio that was published with this book; a current bio is available on my personal site.
Cory Doctorow (email) (www.craphound.com) was born in 1971 and raised in Toronto, Canada. He lives in San Francisco, where he works for the civil liberties group The Electronic Frontier Foundation (www.eff.org). His first novel, "Down and Out in the Magic Kingdom," was published by Tor Books in early 2003, and his second novel, "Eastern Standard Tribe" will be published by Tor in January 2004.
He is the co-editor of the popular weblog Boing Boing (www.boingboing.net) and a frequent contributor to Wired Magazine. He won the Campbell Award for Best New Science Fiction Writer at the 2000 Hugo Awards.
He the co-author (with Karl Schroeder) of "The Complete Idiot's Guide to Publishing Science Fiction."
He is currently working on his third novel, "Someone Comes to Town, Someone Leaves Town," which he hopes to have finished by 2004.
Sign up for the Doctorow mailing list for infrequent notices of books, articles, stories and appearances.
---