News
The wonderful online sf mag Infinity Plus has just published an excerpt from my novel Eastern Standard Tribe.
Peter Tupper has written a great feature on my books for the Vancouver Sun, with a special emphasis on Eastern Standard Tribe (there's also a review of EST, but you have to buy a daily subscription to the print paper to read it -- lame!).
Abbie Hoffman titled his counterculture guide/how-to manual Steal This Book. Toronto-born science fiction writer Cory Doctorow could call his work Download this Book.
Eric writes, on his blog, that he's found himself recommending people for jobs whom he's only "met" by reading their blogs. He describes the process as a burgeoning tribal affiliation, enabled by the 'Net.
For me, I feel like the tribes are beginning to grow up much more around the little nodes and bubbles of the blogosphere, and they're becoming rapidly more important as us early-twenties bloggers own real sphere of influence grows in the meatspace.

10 years from now, I can see not being part of the community be a really detrimental thing for a job hunter.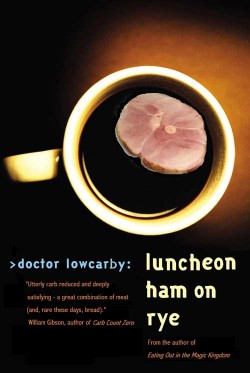 Inspired by Fark photoshopping contest whose theme was unlikely places for low-carb diets, Eldon Brown produced this terrific
parody of my latest novel's cover.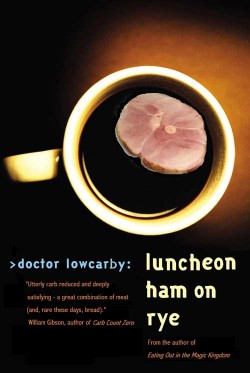 Inspired by Fark photoshopping contest whose theme was unlikely places for low-carb diets, Eldon Brown produced this terrific parody of my latest novel's cover.
Corlin has produced a really interesting audio remix of Eastern Standard Tribe:
1) Record a page of text with Apple speech. (voice "Vicky") No editing this is just a straight read.

2) Run this audio file through "MetaMix", recording the output again...

MetaMix cuts any audio file into chunks of a set duration then plays these chunks back in a preset algorithmic way.

To make smoother transitions from one chunk to the next, MetaMix actually overlaps up to six chunks at a time. As a new chunks gradually fades in, an older chunk gradually fades out. This not only makes the sound more connected, but it can also create interesting composite textures.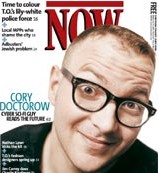 Now Magazine, Toronto's free entertainment weekly, has a great cover story on me this week, with a review of Eastern Standard Tribe.
A reminder: I've got two signings coming up in Toronto this week. The first is tomorrow night, at the Merril Collection, 239 College, third floor, 7 pm, 416-393-7748.
The second is on March 27, at Bakka Books, 598 Yonge at Wellesley, 3 to 5 pm. 416-963-9993.
(Some minor errata: My thesis was about fringe culture and the Internet; I got a job programming, not advertising, CDROMs; and the entertainment industry is worth $60 billion, not million; I was considered the best writer in my school workshops, not my professional ones)
Doctorow peppers his novel with technology so palpable you want to order it up on the web. You'll probably get the chance. But technology is not the point here, merely a fascinating, convincing backdrop for the story. It's a really old story, actually -- boy meets girl. What follows is not unexpected, or even particularly new. What is unexpected, shocking even, is how smart Doctorow is when it comes to the human heart, and how well he's able to articulate it.
This novel feels whiz-bang modern, but Doctorow's prose uses the oldest trick in the book -- utterly direct simplicity. Even when he's explaining a sophisticated system of mobile music swapping, Doctorow comes off like a standup comedian. The insights he offers seem obvious, but only in retrospect. He seems smart because he makes the reader feel smart. When Doctorow talks, when Art argues, we just get it. There's nothing between the language and the meaning. The prose is funny, simple and straightforward. This is a no-bullshit book.
More …
My signing at Borderlands is February 19, not 18:
February 19, 7PM: Borderlands Books, 866 Valencia Street, at 19th St, +1.888.893.4008
Just over a year ago, I released my first novel, Down and Out in the Magic Kingdom, as an experiment in what would happen if I allowed my precious copyright to be slightly eroded by one of the Creative Commons licenses. I chose the most restrictive CC license available to me, staying cautious, and I waited to see if the sky would fall.
It didn't.
So here we are, just a little over a year later, and I am currently, at this moment, standing on a stage at the O'Reilly Emerging Technology Conference, delivering a talk called Ebooks: Neither E, Nor Books, in which I lay out the case for what I've done and explain the myraid ways in which the sky has not fallen on me, and just about now, I'm announcing what' sin this blog post:
That I am re-licensing Down and Out in the Magic Kingdom, effective today, under the terms of one of the least restrictive Creative Commons licenses, the Attribution-NonCommercial-ShareAlike license, which explicitly allows anyone in the world to make any non-commercial adaptation of my book s/he can think of: translations, radio plays, movies, sequels, fanfic, slashfic...you get the picture.
I can't wait to see what you-all make of this. Surprise me, please!