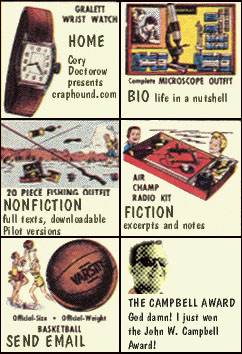 Join my mailing list and get updates on readings, articles, stories and books
Nonfiction
Cory Doctorow

Here you'll find all of my nonfiction. Selected documents are available for download as PalmPilot-readable documents.


Choose your interface wisely -- you may be stuck with it


Editorial on WiFi's value as a competitive hedge against the Baby Bells


Feature on overclockers


Brief review of Iain Banks's Dead Air


Review of William Gibson's Pattern Recognition


Review of the final issue of Warren Ellis's Transmetropolitan


My review of Howard Rheingold's Smart Mobs


I was a contributor to TechTV's Catalog of Tomorrow


O'Reilly blogging book -- I wrote the opening chapter


Quirky "interview" with the deceased Douglas Adams on The Salmon of Doubt


Editorial on the knowledge-management value of blogging


Editorial on the costs to innovation of DRM and tech mandates


Editorial on why Google's search-algorithm can't be beat


My review of Entourage for OS X


My review of the Xircom Wireless LAN Module for Palm m500 handhelds


Editorial on the power of a flat-broke tech-sector


Review of a WiFi adapter for the Handspring Visor


Feature on people who sleep on New York time


Review of No Maps for These Territories, a documentary about William Gibson


Feature review of Microsoft's UltimateTV


Review of Karl Schroeder's Ventus


Review of the Handspring Eyemodule 2


Review of Gerber's "Build-Your-Own" multitool


Review of Tom Kelley's The Art of Innovation


Review of the Eyemodule camera for the Handspring Visor


Review of the David Maurer's The Big Con


Review of Jim Munroe's Angry Young Spaceman


Review of Bruce Sterling's Zeitgeist


Brief review of Aladn Home Automation system


The second meeting of the Intel Peer-to-Peer Working Group


A First Person Account of the First Meeting of the Intel Peer-to-Peer Working Group


With Karl Schroeder


Gibson on Toronto, nostalgia, and pop-culture


The raw transcript


My review of the Argo amphibious ATV


Indy Filmmakers Make Good


Still Lost In Space


Depressing As Hell


More Dollars Than Sense: An American Werewolf in Paris


The Perfect Live-Action Disney Flick: Flubber


My First Cover: Alien Resurrection


Brief review of the PowerBooster 8000


Fifth-Highest Grossing Media Property of All Time: Mortal Kombat Annihilation


A Cyberpunk Rant


Trash Into Gold


Revisionist Disney History: Hercules


The Life and Death of Mackerel Multimedia
---
Internet Column

I wrote a regular column for Science Fiction Age, reviewing science-fiction Web sites. I got the job when Scott Edelman asked Martha Soukup if she wanted it, and she turned him down. Hell, I'll take 'em anyway I can get 'em. Anyway, Scott seems pretty happy with the column -- he's doubled its length and moved it to the coveted back page.

It's always seemed a shame that none of this stuff was online. Sovereign Media, Age's parent company, has been slow to establish a Web presence for its titles, so I've gone ahead and put the old columns up for your perusal. I'll add a new one once the issue it's in is off the stands.

Inherent to the Internet is its mutability. I am positive that many of the links contained herein don't work. I don't have the time to research current links -- if you have any, email me and I'll make the correction. Oh, and of course, if you want something reviewed here, don't hesitate to drop me a line.