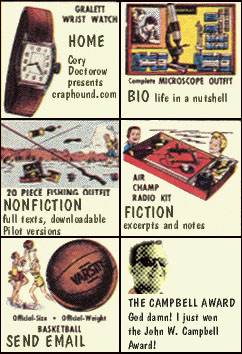 Internet Column from Science Fiction Age,
November 1997
Cory Doctorow
This month's column features the many attractions of sff.net, a kind of Internet clubhouse for writers and readers. Thanks to Charles Orbendorf for suggesting this!
---
A mixture of private and public discussion forums that harken back to the good old days of GEnie, when the leading lights of the industry let it all hang out, kidding, fighting and debating. A truly science-fictional experience.

---

Quirky, award-winning author Terry Bisson (Bears Discover Fire, Pirates of the Universe) writes brilliant short fiction, nonfic, and novels. Check his site for complete story-texts, plays adapted from his work, and notes from the author on his work.

---

A monthly guide to what's new in sf -- the novels, the anthologies, the magazines, the short-stories. Includes Locus' reviews.

---

A place where authors directly retail their hard-to-find works to their readers. Participating writers include Pat Cadigan, CJ Cherryh, Harlan Ellison, Joe Haldeman, Ursula K LeGuin, Gene Wolfe and Jane Yolen. This resource has been around for years online, in one form or another, and it's gratifying to see it on the Web.

---

Christopher Holliday maintains this resource for genre writers: each month, he posts a new, extraordinarily complete list of open magazine and anthology markets. Also here are guest reviews of current issues of genre magazines, articles and interviews on the writing process, and alerts about defunct markets, bad contracts and late payments.

---

"Gentleman Jim" Kelly's homepage is every bit as witty and charming as the man himself. Here, you'll find complete stories, essays on writing and the state of the genre, a complete bibliography, and out-of-print works for sale.

---

Jim Tipton has a rather unusual hobby: he collects earth from the graves of the rich and famous. No, really. If you ever wanted to take this up yourself, you could do worse than to use his online resource. He gets a million cool points for having a picture of him kneeling at Phillip K. Dick's grave.

---

Breathtaking digital photos from the Hubble Space Telescope: Saturn-storms big enough to swallow Earth, black holes, distant galaxies, comet bombardment of Jupiter. Now this is science!

---

Not the official site (which, FYI, is at http://www.lostinspace.com, and sucks), but a fan site chock-a-block with obsessive trivia on the original series and the upcoming feature film.