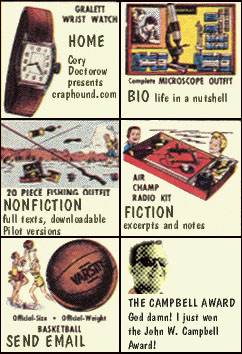 Internet Column from Science Fiction Age,
November 1999
Cory Doctorow
Hallowe'en -- is there a finer holiday? Belly-busting gutfuls of candy, artfully draped toilet paper in the trees, and monsters stalking the night.
This month, I look at the frightful world of horror on the Web, with special emphasis on Hallowe'en fun.
Start with a soundtrack. Rob Zombie (frontman for White Zombie) launched Zombie-A-Go-Go records last year, with a Web presence at http://www.zombie-a-go-go.com/. Z-A-G-G's talent, two bands called The Ghastly Ones and The Bomboras, are a wonderful cross between The Ramones and the incidental music from a Scooby Doo episode. Especially not to be missed is the anthology disk, Hallowe'en Hootenany, with spooky tracks by Reverend Horton Heat, Swingin' Neckbreakers, Los Straitjackets and others.
Now, decorate. For the dedicated do-it-yourselfer, the place to start is TerraGenesis, at http://www.players-society.com/terragenesis/. The brainchild of Gary James, TerraGenesis is a step-by-step guide to the creation of terrain for tabletop war-games. James uses everything from bubblewrap to floppy disks to create blasted landscapes of all description. Lavishly illustrated with photographs of his art-in-progress, TerraGenesis is a modeler's resource of the first order.
If you prefer to decorate on a grander scale, you'll want to visit White Clay Haunting's Hallowe'en Page, at http://member.aol.com/david251/hallow.htm. This site is the Lycos of Lycanthropy, indexing hundreds of haunting sites: commercial outfits, DIY info-sharing, and custom builders.
Open your wallet and take the plunge at Hallowe'en Productions, Inc., manufacturers of prefabricated mobile haunted houses. For mere tens of thousands of dollars, you can own your very own Swamp, Temple of Terror, or Dr. Frightner's Horror Theatre: http://halloweenproductions.com/
If you already own a haunted house and merely want to dress it up a little, have a look at Abracadaver, at http://www.abracadaver.com. Abracadaver delivers film-grade cadavers and tombstones that any ghoul would be proud to put on the mantle.
For the cost-conscious creep, have a peek at Bob's Hallowe'en Page, at http://www.anaserve.com/~BoBandrews/. Bob Andrews is a hobby-haunter par excellence, and his recipes for low-cost props are indispensible.
Now that you've dressed your home, cover your corpse. Mom always told you to keep your head warm, and what better covering than a latex mask from Death Studios, http://www.deathstudios.com/? These lovingly crafted heads, torsos and hands are truly the stuff of nightmares, and Death Studios is the maskmaker of choice for king spook Forrest Ackerman.
Chef Mayhem -- AKA Jeff Baham -- is the greatest fan that the Magic Kingdom's Haunted Mansion ever had. His site, at , is a magificent, unofficial tribute to the finest ride that Disney's Imagineers ever built. Don't miss the downloadable record albums, annotated history and super-rare detail on Phantom Manor, direct from Disneyland Paris.
As you pursue your haunted research further you'll want to visit the Horror Web Ring, an ambitious collection of over 100 horror-related websites: http://www.geocities.com/SunsetStrip/Palladium/9804/horrorring.html
Finally, what Hallowe'en would be complete without a mention of Edgar Allen Poe, the king of horror? Start at the Dauphin County Library System's reference page on Poe, at http://dcls.org/reference/poe.html, then hie thee to Polygram's site for "Closed On Account of Rabies," a brilliant CD filled with the likes of Iggy Pop, Christopher Walken and Marianne Faithful reading the works of the great man: http://www.polygram-us.com/mondo/poe/.