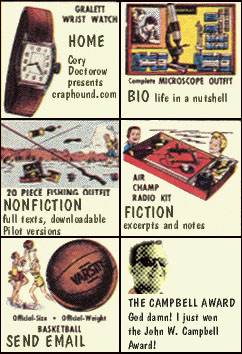 Top of the Food Chain
Sci-Fi Entertainment, Forthcoming

Cory Doctorow (excerpt)
Top of the Foodchain shot in Toronto in the summer of 1998 and Scott Edelman asked me to cruise by the set and put together an article on the production, for Sci-Fi Entertainment.

I had a great day on the set, enjoyed the hell out of the catering, and wrote most of the article onboard an old wooden fishing-trawler the next weekend, on my birthday cruise through the Thousand Islands.

This article is as yet unscheduled -- it won't run until Food Chain is ready for release.
Summer is here, and in the great northeast, it's hot and muggy and everything sticks to everything else in the least pleasant way imaginable. For those of us without air conditioning, it's Hieronymous Bosch meets Beach Blanket Bingo -- hot and cheesy and faintly whiff. So we go to the movies. In droves. The theatres know this, of course, and the air conditioning is aggressive like a New York cabbie. Even more than the big-budg blockbusters like Godzilla, it's the AC that gets bums on seats. Frankly, while Godzilla isn't worth $10 at the door, the AC is.
But that $10 gate is going up, and up, and up. Approaching the cost of an air-conditioner, in fact. Movies are expensive. And it's not just the gate. The Studios, it seems, have thrown open their vaults. $200 mil each for Titanic and Waterworld -- both of which have earned out in spades. A modest movie with some decent FX runs a cool $20 mil and up (and up and up and up!). Here in Toronto, where savvy producers enjoy a 40% discounted dollar and a cityscape that does a credible LA and NYC, locals have gotten on board the Hollywood gravy train. "Sure, I'll move my car out of your shot -- cost you two hundred bucks, though." The beheadsetted production assistants and location managers spend colourful Canadian dollars like sailors on shore-leave.
But with great pricetags comes great responsibility. Studios, never the most hands-off organisations, have blossomed into full-blown obsessive control-freaks. Films get written, directed and edited by committee, while nervous completion guarantors pace and holler down cell-phones. The result is a kind of even-keeled, predictable bill of fare that serves to take us away for 112 minutes but leaves us bored and hungry for more on minute 113.
Enter the independents. From crackpot visionaries with a line of credit on their MasterCards to incomprehensible film-school auteurs to seasoned pros with a firm handle on the budget, indie cinema is the home of the quirky, the strange, and the fantastic.
Top of the Food Chain is a textbook indie film. Phil Bedard and Larry Lalonde started work on the script seven years ago, and worked on it in between writing for TV dramas like John Woo's Once a Thief and Forever Knight. The two have been writing partners for a quarter-century, but this is their first foray into the big screen. They shopped the script to Alliance, Canada's 800-pound-gorilla of a distribution company, and while Alliance wasn't interested, Suzanne Berger, then a Project Executive at Alliance, was. When she left Alliance to found her own production company, Upstart Pictures, she chose Food Chain as Upstart's inaugural project.