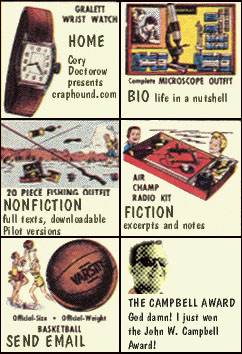 Internet Column from Science Fiction Age,
May 1997
Cory Doctorow
Clicket sells media memorabilia: badges, toys, artwork, costumes and -- masks. Oy. Such masks. Apparently, Paramount has licensed a line of "Deluxe" Star Trek latex masks (you can even get one for that alien thing that looks like an albino gorilla with a horn in the middle of its forehead) that are so egregiously ugly that they come all the way around to beautiful. Picture William Shatner with even more chins than he has in real life, rendered in pink-crayon fleshtones. The effect is heightened by the delicious baby-spit green that the site's authors have chosen for the background. Don't miss the ID4 "Oversized Exoskeleton Mask."

---

With the Star Wars back in the theaters, Star Wars scams are back on the street. This page, part of the Star Wars Collectors Site, is an account of a ripoff artist who advertised rare, collectible Star Wars toys on the Usenet, and the poor people who spent hundreds of dollars for what turned out to be the new, cheapie figures on display at the local Wal-Mart. A cautionary tale for this age, to be sure.

---

This beautiful, nostalgic site is a graphic tour through the toy-fetishes of designer Brian Roach. Childish and lovely, it perfectly captures the thrill of tearing the shrinkwrap off a sexy new Steve Austin doll and sniffing the chemical, new-toy-smell that his injection-molded body exuded.

---

A listing of cable and broadcast SF television for the next 10 days, including VCR+ codes. Updated weekly.

---

A funny, strange and thought-provoking collection of definitions of the term "Science Fiction," from writers, fans, and pundits.

---

About ten zillion songs that make science-fiction references, organized by artist. Did you know that the Jazz Butcher wrote a song about Harlan Ellison?

---

OK, so Mulder and Sculley are investigating a death -- the CEO of an electronics company has been electrocuted by a computer-gone-berserk (Episode 1x06). Wanna know if it's plausible? Wanna know exactly how much electricity it takes to kill someone? This site will tell you -- it annotates the science in every episode of the X-Files.

---

Remember how your English teacher would use mountains of "insightful" questions as an altar on which to sacrifice any pleasure you took in whatever book you were studying? Well, if you're feeling nostalgic, crack a copy of "War of the Worlds," fire up your browser, and prepare to be numbed!

---

Monty Python's Web site is wild. Chock full o' downloadables: animation, video, music, text. Lots of surprises for the casual browser, too.