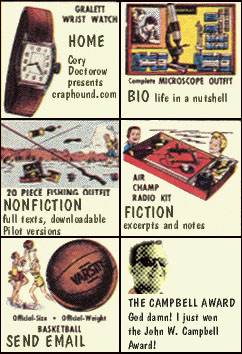 Internet Column from Science Fiction Age,
September 1997
Cory Doctorow
Hugo-award-winning writer Maureen F. McHugh has produced a deep site with lots of intellectual heft. Includes a series of essays on topics ranging from writing to depression to being a "Wicked Step-Mother," as well as fiction and materials on China. Highly recommended.

---

This French site brings you the Cthulu mythos in obsessive detail and depth. You could spend as much time reading this site as Lovecraft spent in inventing the myth-set. In English and French.

---

Scholastic Books brings us this site for "The Most Popular Children's Series of All Time." Yowza. Complete bibliography, games, a fan club and nonstop fun for the kiddies.

---

We have a winner! This is the coolest movie-related site I've ever seen. Not only is it *extremely* easy on the eyes, but it's also chock full o' fun trivia. If you're looking for info on bug-eyed monsters, futuristic rampaging surfers and hockey-masked slashers, look no further.

---

iComics is the online home of news n' reviews from the comics industry. A beautiful, timely site, featuring insightful reviews, industry gossip, and slick, professional layout and graphics. Don't miss the gallery of whimsical web games.

---

The online home of the Grim Rides Funeral Car Club, based in (where else?) San Francisco. These folks collect, customize, detail, and drive hearses. Monster-truck hearses. Vintage 50s hearses. Sleek, modern hearses, with hand-detailed flames running along the sides. California! Go fig.

---

Why is the sky blue? Why is yawning contagious? Scientists, amateur and professional, plumb the Great Unanswerable Questions -- now I know that fish fart.

---

ToyJapan specialized in toys from Japan. Duh. Your source for keen plastic and tin Gigantor, AstroBoy, Godzilla and other merchandise. Prices are in Yen, so I can't figure out if this stuff is cheap or not.

---

Grossly overdesigned and barely navigable, this site requires the Shockwave Flash plugin from Macromedia. It took me over three minutes to lead each screen, and I never did find much besides pretty pictures. Sort of a metaphor for the Batman films: too much money, not enough brains.