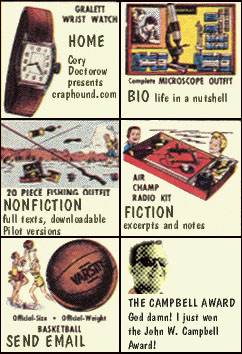 Internet Column from Science Fiction Age,
May 1999
Cory Doctorow
Keep those letters coming! If you'd like to see a site reviewed here, write to doctorow@craphound.com.
Writer Pat York sent me a lovely Christmas gift: http://www.e-sheep.com, Scott Zaccharine's Web-based comic extravaganza. Zaccharine's surreal comix are touching, witty, beautifully drawn and assembled. Don't miss his autobiography, "The Guy I Almost Was," and his nightmarish "Thanksgiving Special." Thanks, Pat!
Steven Silver is a science-fiction fan par excellence. His site, at http://www.sfsite.com/~silverag/ is a whirlwind tour of one man's science-fiction obsessions: bibliographies of baseball sf, Chicago sf, Jewish sf, first contact stories, debut novels, Pluto in sf, Harry Turtledove and Murray Leinster; complete texts of public-domain sf novels, reviews, and a zine. Whew!
I like to include some science in these columns, and this month, it's all about my favorite crackpot genius, the incomparable Nicola Tesla. Brent's High Voltage Page is dedicated to the greatest basement-engineer project of all time: roll-your-own Tesla Coils. Visit http://www.apc.net/bturner/t-page.htm for explicit, easy-to-follow directions for making your own tame lightning at home! While you're waiting for your coil to warm up, head over to http://www.nashville.com/~phil.hamilton/teslafb1.htm for excerpted texts from recently de-classified FBI files on Tesla.
http://come.to/grim-reaper combines two of my favorite subjects: Terry Pratchett and PalmPilots. Mike Richardson, the architect of Grim Reaper, has a wonderful variety of Pratchett-related content for your Palm computer, including an exclusive interview with Terry Pratchett.
While I'm on the subject, don't miss The L-Space Web, at http://www.us.lspace.org/, the definitive source of Pratchett material. So definitive, in fact, that Terry Pratchett has actually signed the server the site is hosted on, in fat magic marker. The content here is astounding: the rules for Cripple Mr Onion, merchandise contact info, tour schedules, and a terrific FAQ.
Remember the first time you read The Hitchhiker's Guide to the Galaxy? Everywhere you looked, the number 42 seemed to crop up. It's funny how that works; pick an arbitrary numeral, assign it some significance, and it'll pop up everywhere you look: the SubGenii have 23, Adams has 42, Tesla was terrified of three, and, apparently, Star Trek is full of 47. Don't take my word for it; http://www.stanford.edu/~schlock/the47s.html, Michaela Schlocker's exhaustive list of 47-related citation throughout the Trek franchise is evidence enough. Thanks to Jerod Pore for opening my eyes.
All right, I know I've already devoted an entire column to Star Wars: Episode 1, and that should really be enough, but I've found another link, and it's so damn good, I can't leave it behind. http://countingdown.com/starwars/ is a deeply bitchen site: I never imagined that there could be this much fascinating minutae about Episode 1. Custom cursors for your PC, a PowerPoint countdown calendar, and more factoids than you can eat in a single sitting.
You'd think with the current AudioBook revolution, that science-fiction radio plays would be seeing some kind of revival. Sad to say, the once-booming sf radio world has petered away to nearly nothing. http://www.mtn.org/~jstearns/SFradio.html exhaustively covers the sparse ground that's left behind, and the lush forests that once flourished.
It's 1999, a science-fiction year if ever there was one. So much sf has been written that places 1999 on an imaginably distant pedestal, it's strange to actually be here. Space: 1999, the British TV series that ran from 1975 to 1977, is a hearkening back to the time when 1999 was still in the future. The official Space: 1999 site at http://www.cybrary1999.com/ has everything you'd expect: episode guides, trivia, stills, clips.
This month, I'm going to close with a best-of-class-site that is every entertainment writer's dream. Ain't It Cool News is a king-hell film gossip site, with more spurious rumours, backstage whispers and dirty laundry than a whole year of supermarket scandal rags. Fun for the obsessive fan and would-be attack journalist alike: http://www.aint-it-cool-news.com/.