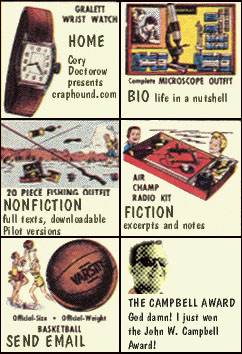 Internet Column from Science Fiction Age,
September 1996
Cory Doctorow
Hands-down winner of the best-informed sfnal Web Site in the universe goes to Al von Ruff's Internet Speculative Fiction Database. A completist's dream, this site indexes most of the short fiction, novels, poetry and artwork published in the genre, period. Easily navigated and always in flux, this site has the power to steal many, many hours of your life.

---

An Australian collective brings us this highly subjective and well-organized collection of reviews of things genre: movies, novels, etc and so forth. Good, eclectic reading.

---

Disney's always been good for yucks when it comes to predicting the future, and nowhere moreso than in the Tomorrowland of the Magic Kingdoms in LA and Orlando. They're rebuilding Tomorrowland -- again, and here's the hype they've released.

---

Bantam Doubleday's entry into the online world has been around for a year, but you'd hardly know it -- not a whole lot of content here and what there is, is pretty moribund and badly presented. Not much, especially when compared to Tor Books' and Ballantine Del Ray's sites, previously reviewed here.

---

Okay, so not everyone has a Mac. But for those of you who do, this site contains links to gobs of free Star Trek software for "The Computer for the Rest of Us."

---

Pigs in Cyberspaaaaaace. A site devoted to the creations of the late, lamented Jim Henson, including a grassroots campaign to save the faltering Muppets Tonight show that aired last season.

---

From the animation studios of Warner Brothers comes this content-rich eyecandy -- Freakazoid, Animaniacs, Pinky and the Brain. Not for the impatient though; each screen takes FOREVER to load.

---

A list of nearly 1,000 science-fiction films, courtesy of The Internet Movie Database. Includes cast lists, soundtrack notes, links to related sites, plot summaries, and minutae aplenty.

---

The twisted mind of Bill Griffith has been reponsible for the ultra-surreal "Zippy the Pinhead" comic strip for many years now, and yet, his microcephalic creation remains relatively obscure. Perhaps this Web site, hosted by the San Francisco Chronicle, can remedy the situation.