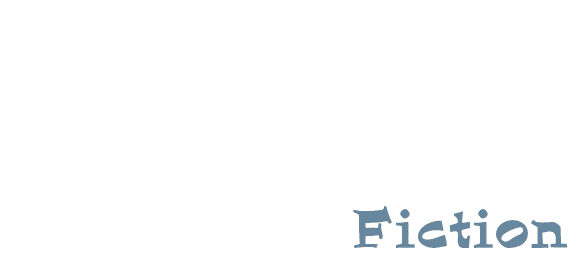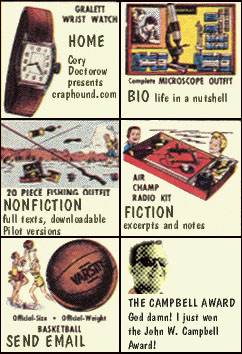 Join my mailing list and get updates on readings, articles, stories and books
Eastern Standard Tribe, forthcoming from Tor Books, January 2004
My second novel!
Flowers from Alice (with Charles Stross), forthcoming in New Faces in Science Fiction (Mike Resnick, ed.)
Love in the time of Posthumanism
Pathological Instrumentation Disorder, forthcoming in The Thackery T. Lambshead Pocket Guide to Eccentric and Discredited Diseases (Jeff Vandermeer and Mark Roberts, eds.)
A fake illness for our times
Unwirer (with Charles Stross), forthcoming in ReVisions (Julie Czerneda and Isaac Szpindel, eds.)
An exercise in online auctioral exhibitionism
A Place So Foreign and Eight More, Four Walls Eight Windows, forthcoming September 2003
My short-story collection!

Nimby and the Dimension Hoppers, Asimov's, June 2003
Biotech versus Technocracy
Printed Meat and Nattering Packages, Business 2.0, May 2003
A zizzing pantopticon
Road Calls Me Dear, The Mammoth Book of Road Stories, January 2003
Tom Waits Abducted By Aliens
Down and Out in the Magic Kingdom, Tor Books, January 2003
My first novel!
Truncat, Bakkanthology, December 2002
Forthcoming in Salon, August 2003
A sort-of-sequel to Down and Out in the Magic Kingdom
Jury Service, (with Charlie Stross) scifi.com, December 2002
Doing time in the post-Singularity patent office
0wnz0red, Salon, August 2002
Nerdc0re extremism

Power Punctuation, Starlight 3, edited by Patrick Nielsen Hayden, Tor Books
The future is shredding.


Beat Me Daddy (Eight to the Bar), Black Gate, Issue 3, Winter 2001
Read it online for free at Fortean Bureau
Playing on after the apocalypse


The Super-Man and the Bugout, On Spec, Fall, 2001
What if Clark Kent had been Hershie Abromowicz (and Smallville suburban Toronto?)?


Abatt01r, Frequency Magazine, Volume 2
Cyberpunk vampires


The Fundamental Unit of Memory, On Spec, Fall, 2000
The first rule of Recollecton Junkies: They Surprise You

I Love Paree, Asimov's, December 2000
(with Michael Skeet)
Full Metal Baugette

The Rebranding of Billy Bailey, Interzone, August 2000
Brand-management in the age of Pepsi Elementary


Return to Pleasure Island, Realms of Fantasy, August 1999
On Being a Jackass

At Lightspeed, Slowing, Asimov's, April 2000
Families: They Fuck You Up


Shadow of the Mothaship, Amazing Stories, 599, Winter 2000
Scientology Alien Invaders with Oedipus Complexes

A Place So Foreign, Science Fiction Age, January 2000
Ambassador to 1975


Home Again, Home Again, Tesseracts 8, Tesseract Books, 1999
Bugouts and bat-houses

Visit the Sins, Asimov's, June, 1999
Year's Best Science Fiction 5 HarperPrism, 2000 (Hartwell, ed)
Adult survivors of huh?


Song of Solomon, Tesseracts 7, Tesseract Books, 1999
Actors on the Stage of the LORD


Overture, Curtain Lights, Odyssey 6, Fall 1998
Unkiddable Man Meets Immovable Object

Fall From Grace, Asimov's, October/November 1998
Programmers in Paradise

Craphound, Science-Fiction Age, March 1998,
Year's Best Science Fiction XVI, Griffin, 1999
Northern Suns, Tor, 1999 Alien Thrift Action


Jaime Spanglish in the Nile, On Spec, Winter 1998
It's All Fun and Games Until Someone Licks the Sarcophagus


Résumé, On Spec, Spring 1994
Gullible Golden Age Fanboys


Cars Swing, Air Fish, Cat's Eye Press, 1993
Love Amongst the Fanbelts


Hell: A Cautionary Tale, Pulphouse 12/13, October 1992
Disco Inferno

The Adventures of Ma N Pa Frigidaire, Honorable Mention, The Asimov Award for Excellence in Undergraduate Short Science Fiction, 1992
The Birth of Crackerpunk


2,000 Year Checkup, On Spec, Winter 1990
Popcult Overload