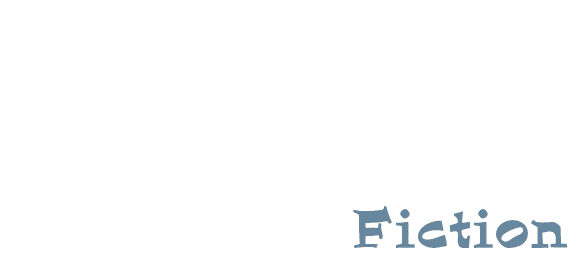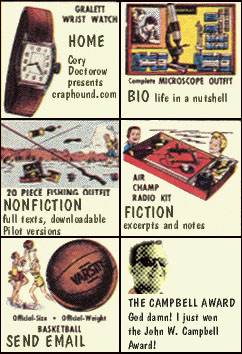 A Place So Foreign and Eight More
Four Walls Eight Windows, September 2003
Buy it on Amazon
Hey: I've put up a whole website for this book, at http://craphound.com/place -- you can download the text of six of the nine stories, read the intro, comment, and more.
This book was years in the making -- Mark Frauenfelder (one of my co-editors at Boing Boing) recommended me to John Oakes, the Publisher of Four Walls Eight Windows press. I'd been looking for a publisher to do my short story collection, and I loved the books that 4W8W puts out (hell, they're Abbie Hoffman's publisher!).
So, after years of negotiation, the book is finally at hand. I have a swell cover, a wonderful intro from Bruce Sterling, and a fine collection of blurbs. I'll be releasing six of the nine stories in this volume online under a Creative Commons license when the book comes out.
Table of contents:
All Day Sucker
From the introduction by Bruce Sterling:
I have the pleasure to introduce you to Cory Doctorow and his short story collection.
As a political activist, gizmo freak, junk collector, programmer, entrepreneur and all around Renaissance geek, Cory Doctorow is a science fiction writer who can really drill down.
Cory Doctorow wrote a non-fiction guide to publishing science fiction before he'd published his first science fiction book. Most people into science fiction wouldn't look the business over with an engineer's sobriety, number all its gears, jacks and pulleybelts, and *then* hop into the mess. That is scary, it's like watching people make law and sausage. But Cory Doctorow also watches people make law. That's his day-job. I don't yet know what Cory does about sausage. I didn't dare ask.
Many writers, especially gray, creaky, well-fed ones, have ambivalent feelings about copyrighted ink versus slithering electronica. Me, for instance: I wrote two novels on typewriters, so I still remember the Pleistocene. But Cory possesses an advanced mode of cyber-analysis. Paper versus pixels, that's yesterday's battle, an intriguing archaism for him. It provokes that nose-flaring delight that he takes in old industrial equipment and Howdy Doody dolls.
Cory was born in 1971 and was typing before he was six. I know many science fiction writers engaged in the cyber-world, but Cory Doctorow is a native. There are times when I suspect I've extrapolated Cory Doctorow. Consider Cory's carefree, shoe-shuffling globalism, so typical of vintage 1980s cyberpunk novels. Canada, Mexico, San Francisco, Costa Rica, scuba in Cuba, no change of physical locale can register with the man. The money changes color, maybe. As long as the junk shops are open and Apple is still shipping hardware, Cory's as happy as a clamshell laptop.
Blurbs:
Cory Doctorow straps on his miner's helmet and takes you deep into into the caverns and underground rivers of Pop Culture, here filtered through SF-coloured glasses. Enjoy.
Neil Gaiman, author of American Gods and Sandman
--
Time travel made fresh. Pinocchio made haunting. Even the tangential ideas, incidental word choices and minor sub-stories crackle with creativity. The last story will blow you away.
Jeff Bezos, founder of Amazon.com
--
Few writers boggle my sense of reality as much as Cory Doctorow. His vision is so far out there, you'll need your GPS to find your way back.
David Marusek, Winner of the Theodore Sturgeon Award, Nebula Award nominee
--
Cory Doctorow is one of our best new writers: smart, daring, savvy, entertaining, ambitious, plugged-in, and as good a guide to the wired world of the twenty-first century that stretches out before us as you're going to find.
Gardner Dozois, Editor, Asimov's SF
--
He sparkles! He fizzes! He does backflips and breaks the furniture! Science fiction needs Cory Doctorow!
Bruce Sterling, Author of The Hacker Crackdown and Distraction
--
Cory Doctorow strafes the senses with a geekspeedfreak explosion of gomi kings with heart, weirdass shapeshifters from Pleasure Island and jumping automotive jazz joints. If this is Canadian science fiction, give me more.
Nalo Hopkinson, Author of Midnight Robber and Brown Girl in the Ring
--
Cory Doctorow is the future of science fiction. An nth-generation hybrid of the best of Greg Bear, Rudy Rucker, Bruce Sterling and Groucho Marx, Doctorow composes stories that are as BPM-stuffed as techno music, as idea-rich as the latest issue of NEW SCIENTIST, and as funny as humanity's efforts to improve itself. Utopian, insightful, somehow simultaneously ironic and heartfelt, these nine tales will upgrade your basal metabolism, overwrite your cortex with new and efficient subroutines and generally improve your life to the point where you'll wonder how you ever got along with them. Really, you should need a prescription to ingest this book. Out of all the glittering crap life and our society hands us, craphound supreme Doctorow has managed to fashion some industrial-grade art."
Paul Di Filippo
--
As scary as the future, and twice as funny. In this eclectic and electric collection Doctorow strikes sparks off today to illuminate tomorrow, which is what SF is supposed to do. And nobody does it better.
Terry Bisson