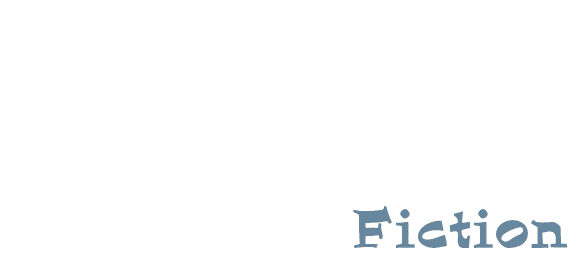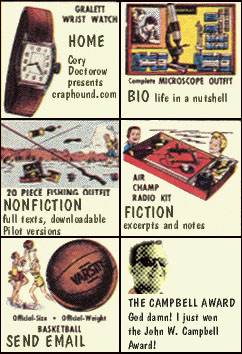 Jaime Spanglish in the Nile



On Spec, Winter 1998
Cory Doctorow
Claire Eddy, an editor at Tor, treated me and Rob Stauffer and Mary Turzillo and Terry McGarry to dinner at ConAdian in 93. I was overwhelmed to be enjoying a meal on a Real New York Editor's expense account.

Over dinner, Rob Stauffer recounted a hilarious episode from Daniel Pinkwater's Chicago Days/Hoboken Nights where Pinkwater licks a sarcophagus. Nonsensically, I said, "It's all fun and games until someone licks the sarcophagus," and Claire said, "I'd buy a story that had that as its first line."

Well, I couldn't make it the first line, and I couldn't make it into a novel, but I did manage to sell it.
The Realistas made Jaime Spanglish lay face down in the dirt with the other Nile-swimmers while they smashed the witch's sarcophagus, gagged the witch and bound his hands, then leashed him to the saddle of an ancient mare.
They left then, dragging the witch along behind. The witch, who was as deep in the Nile as any of the other swimmers, showed no alarm as he disappeared into the new jungles that stood where the Realistas' families had picked beans and coffee a generation before. The witch was deep enough in the Nile that he felt himself a wizard pressed into service by a band of dwarves who were taking him to their underground stronghold so that he could prepare his spells, proof against marauding goblins. The witch was from Chicago, but he'd grown up playing games set in an idealised, fantastic Celtic-land on the net, where such things were commonplace, and with his eyes submerged in the Nile, that's what he saw.
Jaime Spanglish lay in the dirt, watching them, seeing not a band of dirty, bearded guerrillas with antique weapons slung at ready, but a crowd of paparazzi with cameras and fat cigars, harrying an aloof film-star as he made his way from the doors of his Manhattan apartment to his waiting limo. Jaime Spanglish grew up in Aguas Claras de Santa Rosa, but the television there showed many scenes such as these, full of glitter and busty, whorish _gringas_ and the magic of El Norte. It was to the level of this magic that the waters of the Nile rose in him.
And so when his uncle Federico Arturo came and hauled him to his feet, and half-dragged him along the trail back to Aguas Claras, Jaime Spanglish saw himself dancing gaily through Central Park, dapper in a white tailcoat, his skin as white as the fat snowflakes that fell around him.