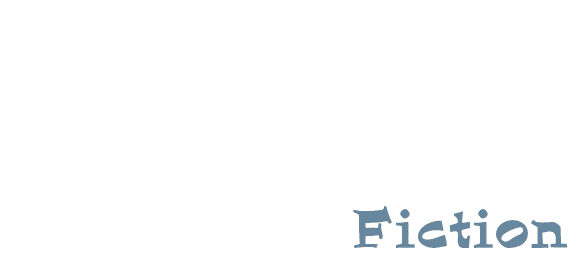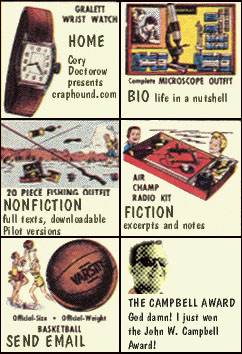 Hell: A Cautionary Tale
Pulphouse 12/13, October 1992
Dean Smith and Kris Rusch brought the proofs for this to my Clarion. I've got a great pic of me grinning like an idiot, drooling over them. This was the second story I ever sold, and it ran in one of the very last issues of Pulphouse.

I wrote this story while I was living in Mulégé, Mexico, in the Baja. I went down when I was seventeen, to stay with a friend's mom who was running a pizza joint. I worked for a while as a night-watchman for the pizzaria, which had been a brothel in a previous life. I'd sleep on a grimy futon on the floor with a machete nearby, surrounded by the menagerie from the petting zoo out back (goat, cats, dogs, and a pig), and tell drunks that there were no hookers to be found there anymore.

Eventually, I moved to a little house on top of a little mountain, and spent every day out in the sun, writing and watching the village below. It was a wonderful time.
John Rossner's hell looked like this:
A furnished hotel suite, circa 1971.
There were four bedrooms, a kitchenette with wet bar, a huge colour TV, snow-white shag carpeting, brass Buddhas grinning out of wall-niches and huge brass beds. There was a pink bedroom with a polka-dot duvet and a princess phone. There was a blue bedroom with grass wallpaper, a roll-top desk and an art-deco end-table. There was an earth-brown bedroom with a mural of a pine-stand, light shafting through the canopy of leaves. There was, finally, a white bedroom with vaulted ceilings, plaster columns in the corners and a huge closet lined with mirrors. The bathrooms were like hydrotherapy chambers: white unto blue, gleaming tile and silvery fixtures. There were tiny soaps hand-wrapped in scented paper, bidets, and thirsty white terrycloth bathrobes with hoods. There was a common area filled with angular, black-and-silver furniture, sleek and stylised, a hopeful era's vision of space-furniture. The TV had a remote control that made different clicks as buttons were pressed and changed the channels. A sneeze, just so, or a squeak from a room-service trolley would cause the the channel to change, or the volume to grow, or the set to turn off.
A sliding door opened onto a balcony, the view from which was one of perpetual starry brilliance in all directions. The watcher from the balcony realised that that the suite floated in an infinite void, filled with stars and vacuum and occasionally spacemen the way they would be in the year 2000, if 1971 had its way. Men in huge, metallic bell-bottomed trousers, floating with their dogs and platform shoes, sipping martoonis while chatting with neighbours. The women all had broad hips and large, firm breasts and their gowns or pantsuits or coveralls were backless.
The door of the suite opened onto an opulent hallway, crystal chandeliers and standing ashtrays. There were no other suites branching off the hallway. The elevator had a sign that said Penthouse. The button lit up when you pressed it, but the elevator never, ever came.
---
John Rossner's hell looked like this:
Three brothers. Fat, well-dressed, their bellies and their hair sleek like sealskin.
They slept in the pink room, the blue room, and the brown room. They were called Glutton, Gourmet and Gourmand. They insisted, often, that these were old, pre-Revolutionary family names, lovingly handed down by their forefathers who wined and dined in decadent France.
When John arrived in hell (he had rolled out of bed, with a slight hangover, and found himself in the white room) the three brothers had loudly voiced their relief that the houseboy they had sent for had finally arrived.
John had been more stunned by the fact that he was to be a manservant for the rest of eternity than by the fact that he was dead and damned and delivered to hell.
At first he had stubbornly refused. The three brothers, twiddling their huge pinky rings had begged him to cošperate. Then they ordered him. Then they threatened him.
"Really Jonathan, be sensible. You will never get anywhere in polite society with that attitude," said Gourmand, idly cracking a walnut.
"John-boy, you really don't have a choice. We requisitioned you, we have means of making you cošperate. Come now, fetch us a bourbon and branch, there's a lad," said Gourmet, putting flame to an exquisite Meerschaum.
"Besides, it's not as if you are to wait on us forever dear boy. In a century or two we shall retire you with a lovely cottage and a pension," said Glutton, picking lint from his vest.