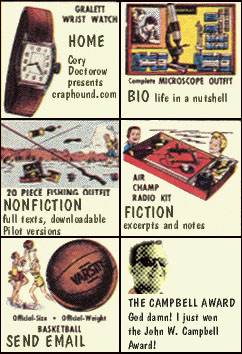 Thanks!
Cory Doctorow
Space: The Imagination Station will be airing footage of my Campbell Acceptance Speech on Thursday, September 7 (at 15:55h EDT, 17:55h EDT, 19:55h EDT 21:55h EDT, 23:55h EDT) and Friday, September 8 (at 0955h EDT, 1155h EDT).

I'm hoping to get the video for the site, but until then, this is your only chance!
Goddamn, I won! I'm can't believe I won! I won I won I won I won I won!
There are about 10,000 people I need to thank, and I only have 90 seconds, so just visit my website: www.craphound.com/thanks.
This kicks all kinds of ass.
I ended the speech here, because I realized that no one was there to hear me do my Susan Sarandon impression, but I think the stuff below is important, so I've left it online.
I know it's bad form to use this podium as a bully pulpit, but there is one thing I want to say:
There's been a lot of hand-wringing this year about electronic piracy. Here's how I see it: When someone spends their unpaid work-days converting your work to electronic format, when that person passes it around the network, recommending it -- well, that's pretty close to the kind of publicity writers wish their publishers would spring for.
More than anything else, our writerly priority has to be figuring out how to make money off of that dynamic.
More than anything else, we need to figure out how to stop suing these amateur publicists and put them on the payroll.
Good night.
---
Thanks to:
My parents, Roz and Gord Doctorow and my brother Neil
My girlfriend, Amanda Foubister
My grandparents, cousins, uncles, aunts and assorted family members
My workshopmates at the Cecil St Workshop, especially my collaborators, Karl Schroeder and Michael Skeet
The writers, editors, teachers, and critics who've mentored me over the years, including, but not limited to, Lisa Goldstein, Judith Merrill, Harriet Wolff, Scott Edelman, James Patrick Kelly, Renee Wilmeth, Damon Knight, Kate Wilhelm, Jena Snyder, Cath Jackel, Patrick and Teresa Nielsen Hayden, David Hartwell, Claire Eddy, Gardner Dozois, Kim Mohan, Sheila Williams and Rob Killheffer.
My Clarion and Gipsycon workshopmates, including Pat York, Rob Stauffer, Becky Maines, Cynthia Zender, Janis O'Connor, Martha Soukup, Tom Marcinko, Steve Samenski, Cynthia Seelhammer, Pam Noles, Ray Davis, Bob Boyczuk, and a cast of thousands
My business partners, Grad Conn and John Henson
My projectmates from YCI Project Costa Rica III
The numerous contributors to my Clarion fund in 1992, and the staff of Clarion itself.
My heroes: Abbie Hoffman, Walt Disney, Leon Trotsky, Nicola Tesla, Marc Davis, Tom Waits, Louis Jordan, Slim Gaillard, the Sherman Brothers, and Robert A. Heinlein
If your name doesn't appear here and you were expecting it, I apologize. If you've kept in touch with me at all lately, you know how freakishly overextended I am these days. I plead exhaustion.