News
Here's an MP3 of the audio from the Reigniting Society's Ambition with Science Fiction event that I did with Neal Stephenson and Ed Finn at Seattle Town Hall on Oct 26, to promote the Hieroglyph anthology, designed to inspire optimistic technologies to solve the Earth's most urgent problems. I had a story in it called The Man Who Sold the Moon.

My latest Locus Magazine column is Stories Are a Fuggly Hack, in which I point out the limits of storytelling as an artform, and bemoan all the artists from other fields -- visual art, music -- who aspire to storytelling in order to make their art.
There are other media, much more abstract media, that seemingly manage to jump straight to the feels: painting, photography, poetry, sculpture, music. Not always – all of these things can tell stories, but they don't need to in order to make you feel things. Instead, they seem to reach right inside your skull and tickle the feeling parts of you, trig­gering cascades of intense emotion that are all the more powerful for their inexplicable nature.

Now, this stuff is all very primal and non-rational and is hard to taxonomize and rationalize and turn into something repeatable. If I can't tell you why ''Guernica'' makes me feel Guernica-ey, then how are you supposed to improve on it in a future iteration to fine-tune the emotive effect? At least with stories, you know that if you tell a scary story, and it works, the audience will experience fear. But the emotional oomph of non-narrative art is much more mysterious, more of an art, really, and though it may be harder to systematize, when it gets in the groove, look out.

Which is why, as a ''storyteller,'' I sometimes get a little impatient with people who are really good at those other media – none of which I have any talent for, incidentally – when they rhapsodize about sto­rytelling as a way of practicing their art. That's not because I want to jealously guard my preserve here in storyland, but because making someone feel something without all that tedious making-stuff-up is a hell of an accomplishment and it's heartbreaking to see brilliant artists turn their back on it.
Stories Are a Fuggly Hack [Cory Doctorow/Locus]
(Image: Großmutters Geschichten 19Jh, Public Domain)

Amanda Palmer's new book Art of Asking is a moving and insightful memoir of her life performing music while making personal connections with her fans; I wrote a long, in-depth review of it for The New Statesman.
There's a litmus test for how you will likely feel about Palmer's Kickstarter: Palmer invited local musicians in each city on her tour to come onstage and jam with the band. She asked that they come by for an afternoon's quick rehearsal, and offered them beer, t-shirts, and gratitude and recognition. This move - something that Palmer's bands had often done on previous tours - enraged her detractors like nothing else.

The inaccurate headline: "Musician raises $1 million from fans, asks her band to play for free." (Palmer's band was paid, it was the jamming local performers who were volunteers.) Even after it was corrected, even after Palmer relented and offered the volunteer musicians $100 to come on stage with her, she was still pilloried for "not valuing the hard work of fellow musicians".

But in truth, the practice of letting fans jam with the band is an honourable and widespread one. I once spent a night on New Orleans' Bourbon Street, hopping from bar to club, listening to the always-excellent house-bands performing blues and rock and rockabilly and jazz. And without fail, during each set, someone would walk in off the street, a musician on holiday from some much-less-exotic city, perhaps in a state that began and ended with a vowel, with a guitar or sax or even an accordion, and that person would take the stage with the band and jam in. It was a gift - from the band to the vacationing musician, from the musician to the band, from the crowd (who would cheer on the newcomer with real zest), and to the crowd. It wasn't a market transaction, though sometimes a beer or a t-shirt or a CD would change hands (and in any conceivable direction).

As Palmer points out, other bands have run successful Kickstarters in which they charge their backers for the privilege of performing on stage during the tour. No one bats an eye at the idea that musicians should pay to perform, nor do they balk at the idea that they should be paid to perform. But let no money change hands at all and all of our reactions are disordered. Art without the market is a terrifying thing, a frank admission that the alleged "music industry"'s most indispensable components - the musicians - never really had a realistic chance of earning anything, and the ones that do get paid are statistical outliers.
Standing naked in front of an audience: Amanda Palmer and a new way to make art [Cory Doctorow/New Statesman]

I've just come back to the UK from my US tour for In Real Life, the New York Times bestselling graphic novel Jen Wang and I made; I'll be launching it in London at the incomparable Orbital Comics, near Leicester Square, on the evening of Weds, 12 Nov.
Excerpt …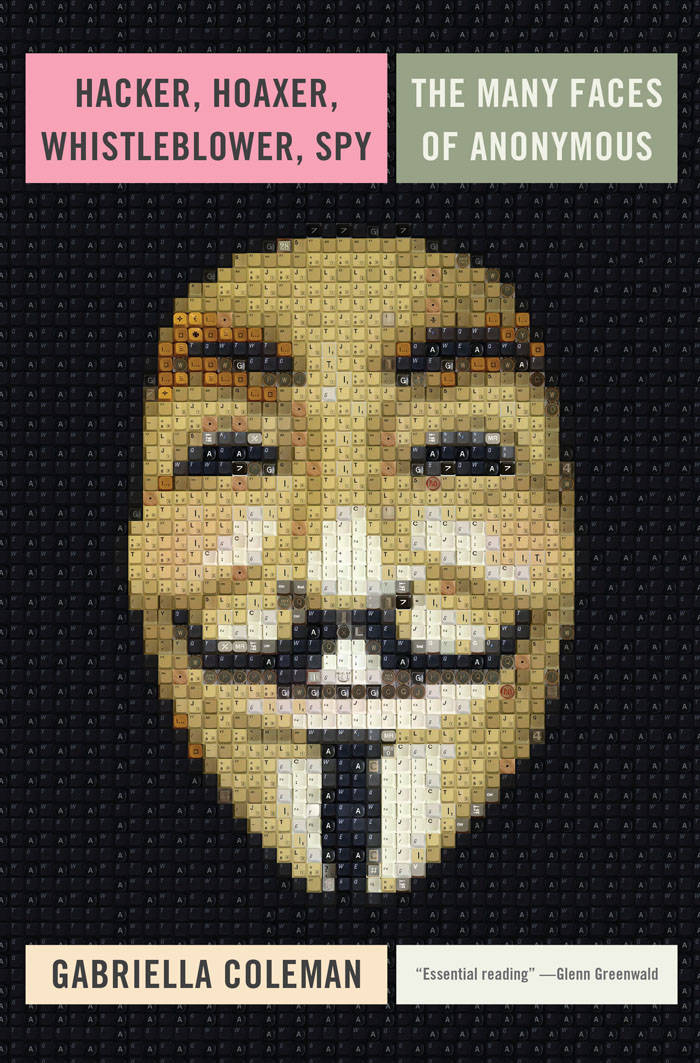 Anthropologist Gabriella Coleman (author of the brilliant Coding Freedom) spent years embedded with Anonymous and has written an indispensable account of the Anonymous phenomenon.
Excerpt …

I sat down at New York Comic-Con with Aaron from The Geekcast podcast for a long, interesting interview (MP3) on a wide variety of subjects about art, computers, games and justice!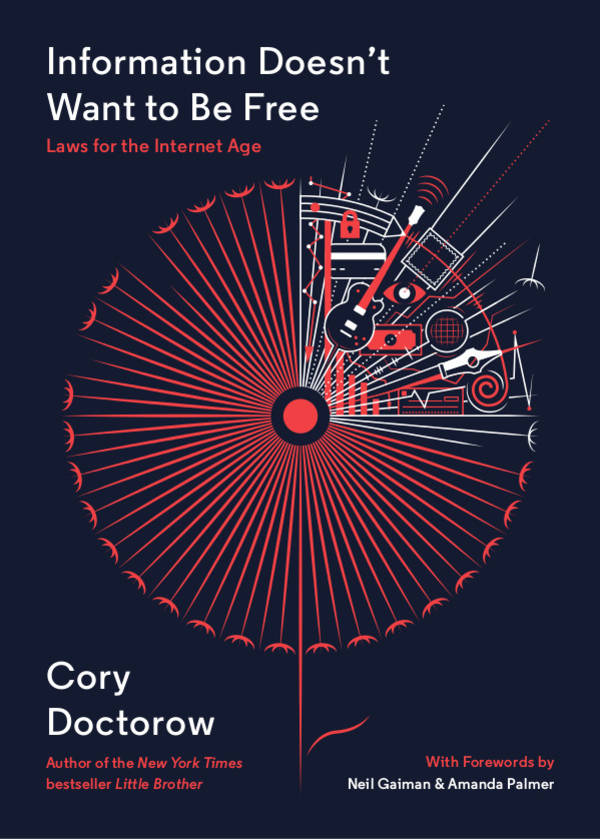 As the tour with my graphic novel In Real Life draws to a close, my next tour, with my nonfiction book Information Doesn't Want to Be Free kicks off with stops down the west coast.
Excerpt …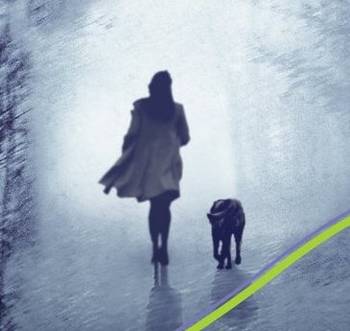 My latest Guardian column, Crypto wars redux: why the FBI's desire to unlock your private life must be resisted, explains why the US government's push to mandate insecure back-doors in all our devices is such a terrible idea -- the antithesis of "cyber-security."
As outgoing Attorney General Eric Holder invokes child kidnappers and terrorists, it's like a time-warp to the crypto-wars of the early 1990s, when the NSA tried to keep privacy technology out of civilian hands by classing it as a munition (no, seriously). Today, the need for the public to be able to thoroughly secure its data has never been more urgent, and the practicality of a back-door mandate has never been less plausible.
Because your phone isn't just a tool for having the odd conversation with your friends – nor is it merely a tool for plotting crime – though it does duty in both cases. Your phone, and all the other computers in your life, they are your digital nervous system. They know everything about you. They have cameras, microphones, location sensors. You articulate your social graph to them, telling them about all the people you know and how you know them. They are privy to every conversation you have. They hold your logins and passwords for your bank and your solicitor's website; they're used to chat to your therapist and the STI clinic and your rabbi, priest or imam.

That device – tracker, confessor, memoir and ledger – should be designed so that it is as hard as possible to gain unauthorised access to. Because plumbing leaks at the seams, and houses leak at the doorframes, and lie-lows lose air through their valves. Making something airtight is much easier if it doesn't have to also allow the air to all leak out under the right circumstances.

There is no such thing as a vulnerability in technology that can only be used by nice people doing the right thing in accord with the rule of law.

Crypto wars redux: why the FBI's desire to unlock your private life must be resisted
(Image: graffiti04, David Bleasdale, CC-BY)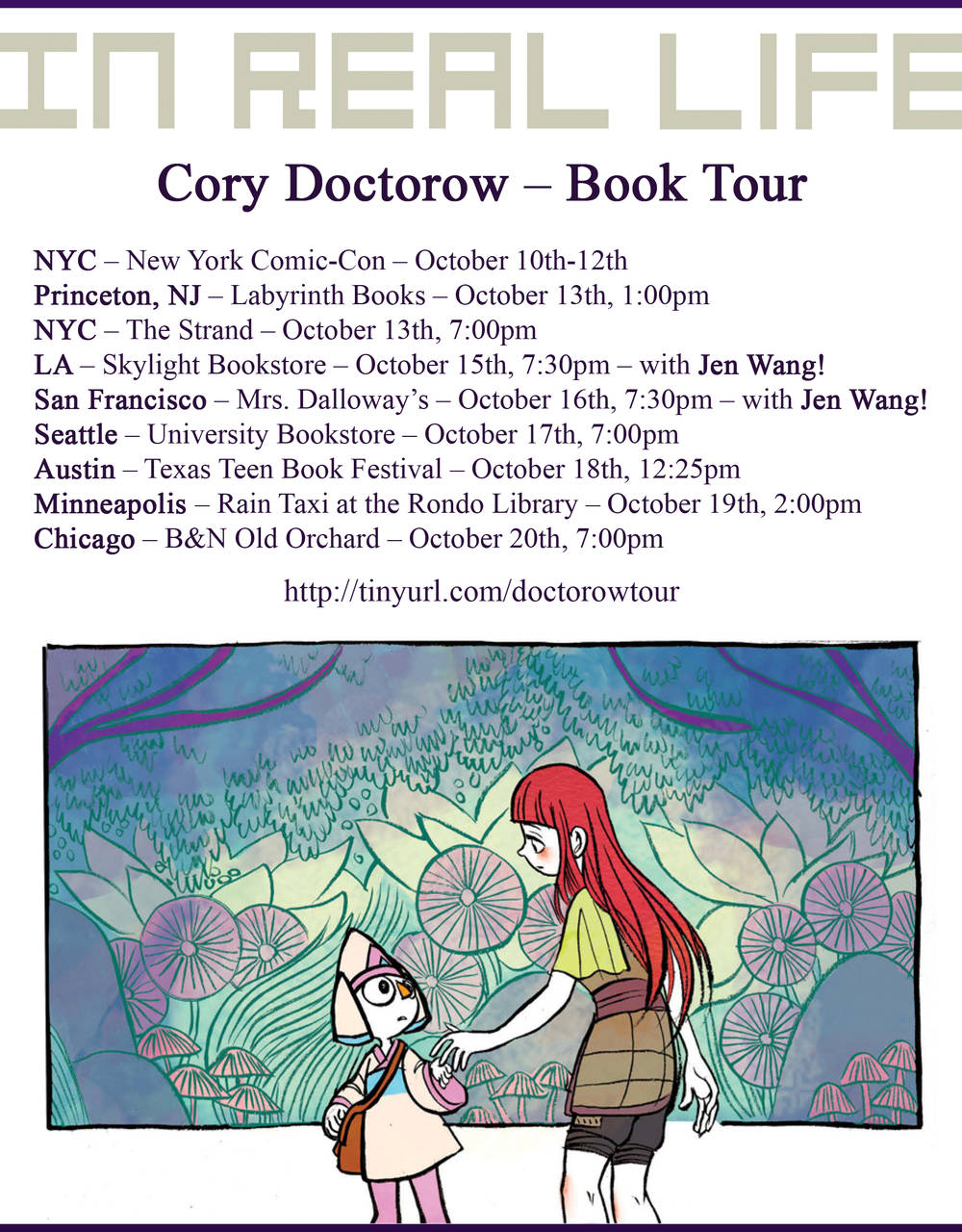 I'm heading out on tour with my new graphic novel In Real Life, adapted by Jen Wang from my story Anda's Game. I hope you'll come out and see us! We'll be in NYC, Princeton, LA, San Francisco, Seattle, Austin, Minneapolis and Chicago! (I'm also touring my new nonfiction book, Information Doesn't Want to Be Free, right after -- here's the whole schedule).


The Copper Cylinder Prize, voted on by members of the Sunburst Award Society awarded best YA novel to Homeland; best adult novel went to Guy Gavriel Kay's River of Stars.
It's a fantastic honour, in some ways even better than winning the juried Sunburst Award, because popular awards are given to books that have wide appeal to the whole voter pool. I'm incredibly grateful to the Sunburst Award Society, and also offer congrats to Guy for his well-deserved honour.

Sunburst Award Society Announces the Winners of Its Third Annual Copper Cylinder Awards