News
I'm delighted to note that Someone Comes to Town, Someone Leaves Town was selected for Locus Recommended Reading List for 2005 in their best novels category!
A reminder: I'm doing a a reading and signing tomorrow (Monday) night at London's Stanhope Centre, near Marble Arch, at 6:30PM. Books will be on sale and light refreshments provided. Hope to see you there!
This is such a cool reminx of my novel Someone Comes to Town, Someone Leaves Town -- an RSS feed that gives you a couple pages every day. No matter when you subscribe to it, it sends you the book starting from the beginning. Subscribe via Winksite and it'll come to your phone in daily bite-sized pieces.
(Thanks, Charles!)
I'm giving a signing and reading for my latest book, Someone Comes to Town, Someone Leaves Town, at London's Stanhope Centre next Monday, Oct 24 at 6PM. There will be copies of all my books on sale, and the kind folks at Stanhope are also providing "light refreshments." Hope to see you there!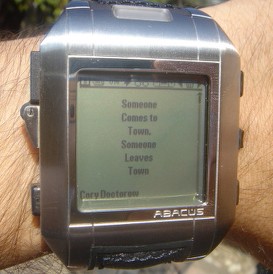 Make Magazine's Phil Torrone has loaded Someone Comes to Town onto his fancy PalmOS watch. I've known intellectually all along that this was theoretically possible, but actually seeing the book on a ferchrissakes watch is pretty wild.

Last week I did a virtual book-signing of my novel Someone Comes to Town, Someone Leaves Town along with an interview in the massively multiplayer online world Second Life. All last week, Hamlet Linden, the game's embedded reporter, has been running the transcript of the interview in the Second Life blog, New World Notes. Now the whole thing is online.
On a related note, Damon Wallace continues to add to his amazing collection of fan illustrations of scenes from my novel, including Alan's tiny thumb, Marci in the family cave, a sketch of Davey and a wicked-creepy Davey attack on Alan. These illos are just gobsmackingly wonderful.
HL: [Audience member] Jarod Godel asks, "A lot of the backstory and universe in Someome Comes To Town was left open; was this done on purpose, trying to encourage fan fiction to fill in those gaps?

CD: Not to encourage fan fiction per se, but the human imagination has a lot higher polygon-count than prose could ever have. Leaving most of the world in shadow lets readers fill in very high rez pictures where you don't have the throughput in the printed page. That said, if fan fiction emerged that filled that in, I'd be mightily chuffed.

On Sunday, I did an in-game book-signing in Second Life, a massively multiplayer online world. Now, part one of the transcript from the interview is online. The signing was stupendously weird and fun -- people turned up in avatars designed to look like characters from the book (or in other, weirder avatars, including an AT-ST from the Star Wars universe!). All this week, you can check back with New World Notes, Second Life's in-game newspaper, for subsequent installments on the transcript:
For those few here (and I hope it's just a few) who haven't read Someone Comes to Town yet, why not give us your brief cocktail party pitch for the story?

Cory Doctorow: Hmm-- it's not an easy book to summarize. Alan is a serial entrepreneur who moved to Toronto to get away from his family. His father is a mountain and his mother is a washing machine. He has several brothers, including one who is an island, three who nest like Russian dolls, a precognitive, and a demonic savage. When he was a teenager, he murdered the latter brother, with his other brothers cooperating. And now that brother is back form the dead, stalking them all. Alan has fallen in with a gang of anarcho-info-hippies who are using dumpster-dived hardware to build meshing WiFi repeaters in a mad bid to unwire all of Toronto, or at least the bohemian Kensington Market streets. Meanwhile, his neighbors-- a student household-- contain a girl with wings and a mean-spirited guitar player/bartender, who, it appears, may be in league with the demonic brother.

So that's it in a nutshell. A very large and n-dimensional nutshell.

HL: If someone asked me to classify Someone Comes to Town, I'd call it "high-tech magic realism". (That may be a new genre!) But how's that hit you?

CD: I think that's a good classification. I've been calling it a techie contemporary fantasy -- contemporary fantasy being the label commonly applied to magic realist fiction when written by North American popular authors instead of Marquez and his cohort.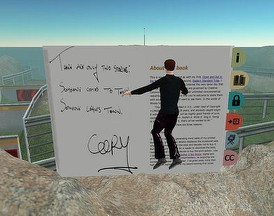 Yesterday's in-game book-signing in the massively multiplayer online world Second Life went swimmingly. A variety of accounts of it are appearing now, including this liveblog on the Terra Nova blog and this Flickr set of photos from in the game, that includes some of the attendees' avatars who turned up "dressed" like Mimi, a character from the book. Man, that was cool.
Tomorrow -- Sunday -- at 2PM Pacific (11AM Eastern, 10PM UK) I'm doing my in-game book-signing in Second Life, a massively multiplayer online world with an extensive toolkit for creating in-game artifacts that have sophisticated behaviors and appearances (I once met a guy who makes a real living making and selling in-game penises).
The Second Lifers made a special effort to make me welcome, holding a design competition to create an in-game edition of my new book, Someone Comes to Town, Someone Leaves Town (which included a replica cover made by creating an in-game avatar that looked like the girl on the cover's brilliant Dave McKean painting, posing it, and taking screenshots).
They also roped a Second Lifer, lilith Pendragon, into creating a custom avatar for me that looks pretty eerily lifelike (I logged in for a bit last night and made it do funky disco moves that required a lot more coordination that the real-life me could ever muster).
Second Life's in-game reporter, Hamlet Linden, has run a fascinating interview with lilith, who apparently has a whole in-gmae business creating custom avatars for players:

So lilith's Cory Doctorow joins an esteemed list of her celebrity tributes which also include Frieda Kahlo and Shirley Manson of Garbage (lilith most often wears her Ms. Manson, on herself). Her Cory is so exacting, I initially assumed she'd created a custom skin of him in Photoshop. But as she tells it, she brought Doctorow into this world "just using the [default avatar creation] sliders and looking at his pic. Then I made all the clothes in Photoshop."

She did have a challenge recreating Cory's skull-hugging haircut, however.

"I tried to do his hair with prims to get the flat top, but it just looked horrid, and I'm not patient," she says. "Made a hair texture for his head, similar to how I did the corn rows for Snoop, and tweaked the hair sliders to make a little stick up in front."

(Thanks, James!)
The BBC ran a profile of me today -- a very flattering one indeed.
Author, blogger and campaigner Cory Doctorow passionately believes the internet has helped unleash a new form of creativity based around collaboration.

He co-wrote an award-winning short story, called Jury service, with a writer in Scotland called Charles Stross.

But the pair never met and instead collaborated via the internet, from start to finish.

"That story is repeated in macrocosm a million times a day on the internet," said the Canada-born and London-based writer.

"There are people who have never met, who do not know each other, may only just pass in the night."

But he says big media companies are trying to stifle the ability to share content in the name of protecting copyright.