News
The 2013 Locus Awards final ballot has been announced, and as ever, it is a fabulous guide signposting some of the very best work published science fiction and fantasy in the past year -- a perfect place to start your explorations of the year's books.
I am very honored to have been included on the ballot; my novel Pirate Cinema made the Best Young Adult novel list, which is a particularly strong category this year:
See the full ballot after the jump.
---
The 2013 Prix Aurora Award ballot has been announced, and I'm delighted to see that my novel Pirate Cinema is up for the prize in the Young Adult category. The Auroras are a people's choice award given for Canadian science fiction and fantasy, and I'm delighted to be recognised in the land of my birth! The whole ballot is a great signpost to some wonderful Canadian literature, and the young adult section is particularly strong:
Best YA Novel – English
Above by Leah Bobet, Arthur A. Levine Books/Scholastic
The Calling by Kelley Armstrong, Harper Teen
Dissolve by Neil Godbout, Bundoran Press
Mik Murdoch, Boy Superhero by Michell Plested, Five Rivers
Pirate Cinema by Cory Doctorow, TOR Teen
Under My Skin: Wildlings Series (Book 1) by Charles de Lint, Razorbill Canada
---
I was delighted today to discover that my novel Pirate Cinema had been nominated for the Libertarian Futurist Society's annual Prometheus Award, amid a slate of absolutely wonderful books:
Arctic Rising, Tobias Buckell (Tor)
The Unincorporated Future, Dani & Eytan Kollin (Tor)
Pirate Cinema, Cory Doctorow (Tor)
Darkship Renegades, Sarah Hoyt (Baen)
Kill Decision, Daniel Suarez (Penguin)
I was proud as punch to win the award for my novel Little Brother, and I'm very excited to be back on the roster. Many thanks to the jurors.

2013 PROMETHEUS AWARD FINALISTS ANNOUNCED
---
The 43d Locus Poll and Survey is open for your picks of the best science fiction and fantasy of the past year, as well as your survey answers (Locus has been collecting detailed statistical information about science fiction readers for, well, 43 years now). You needn't be a subscriber to fill in the survey, though subscribers' votes are weighted more heavily in the awards.
I'd be remiss if I failed to mention that I have two books on the ballot this year: Rapture of the Nerds (with Charlie Stross) and Pirate Cinema; they're in some very good company as well.
---
My novel Pirate Cinema is the current TechDirt Book Club selection, and we're kicking it off today with a Google+ hangout in about five minutes. I've never done a Hangout before -- I don't have a G+ account because I object to its "real names" policy, but I've created a throwaway account for the occasion.
Live Video: Cory Doctorow Talking With Techdirt About Pirate Cinema, Copyright Law & More
---
IP lawyer Stuart Langley wrote a fantastic analysis of the legal issues raised in my novel Pirate Cinema a guest-article for the wonderful Law and the Multiverse site. Langley does a very thorough job of looking at the real laws and legal problems behind the plot points in the book.
The McCauley's internet access has been disconnected consistently with what appears to be an implementation of the United Kingdom Digital Economy Act 2010. Implementation of this act has been slow, but is expected to lead to notices and service disruption as early as 2014. The implementing code of this act obligates ISPs to respond to copyright infringement reports by notice to subscribers, maintain a list of subscribers that have received notices which can be disclosed to copyright owners under court order, and degrade or deny service to repeat offenders. The technical measures imposed by the law will be appealable; on paper the appeal processes appear designed to protect subscribers, however, the regulations on the appeal process have not yet been published. This foundational scenario in Pirate Cinema is plausible.

But whether it is acceptable to cut off internet access as punishment for violating how that service is used is another question. Because of the disconnection Trent's father cannot find work, his mother cannot find medical care, and his sister's schooling suffers. Is internet access is a public utility that should be more difficult to disconnect than summary and unilateral administrative action? As explained in Jim Rossi's article Universal Service in Competitive Retail Electric Power Markets: Whither the Duty to Serve? 21 Energy L.J. 27 (2000), common law principles express a public utility having a higher obligation to provide service—to provide extraordinary levels of service, especially to small residential customers. These obligations include the duty to extend service, provide continuing reliable service, provide advanced notice of disconnection and to continue service even though a customer cannot make full payment. Public utilities can have terms of service and can terminate service for violations, commonly payment and safety related transgressions. One U.S. city proposed to cut off utility service for failure to pay speeding tickets, although using utility service as a tool to enforce other regulations seems very unusual and inconsistent with the common law "duty to serve". The question posed by Pirate Cinema is timely as governments try to regulate internet access, they do so by treating it as a public utility. This will be a double edged sword in that one treated as a utility, society should, perhaps, have a higher duty to provide internet access and similarly higher barriers before disconnecting service, including greater due process and evidentiary protections for subscribers.

Pirate Cinema by Cory Doctorow
---
Locus magazine has just released its 2012 Recommended Reading List of science fiction/fantasy/horror, which is always a great reading guide (and a fabulous resource for those of us nominating for the Hugo awards. I'm delighted to see my novel Pirate Cinema and Rapture of the Nerds (written with Charlie Stross) on the best novel list!
Novels – Science Fiction

*
The Hydrogen Sonata, Iain M. Banks (Orbit US; Orbit UK)
*
Bowl of Heaven, Gregory Benford & Larry Niven (Tor)
*
Any Day Now, Terry Bisson (Overlook; Duckworth '13)
*
Blueprints of the Afterlife, Ryan Boudinot (Black Cat)
*
Arctic Rising, Tobias S. Buckell (Tor)
*
Captain Vorpatril's Alliance, Lois McMaster Bujold (Baen)
*
Intruder, C.J. Cherryh (DAW)
*
Caliban's War, James S.A. Corey (Orbit US; Orbit UK)
*
The Rapture of the Nerds, Cory Doctorow & Charles Stross (Tor)
*
The Eternal Flame, Greg Egan (Night Shade; Gollancz)
*
Angelmaker, Nick Harkaway (Heinemann; Knopf)
*
Empty Space, M. John Harrison (Gollancz; Night Shade '13)
*
Rapture, Kameron Hurley (Night Shade)
*
Intrusion, Ken MacLeod (Orbit UK)
*
In the Mouth of the Whale, Paul McAuley (Gollancz)
*
Fate of Worlds, Larry Niven & Edward M. Lerner (Tor)
*
The Fractal Prince, Hannu Rajaniemi (Gollancz; Tor)
*
Blue Remembered Earth, Alastair Reynolds (Gollancz; Ace)
*
Jack Glass, Adam Roberts (Gollancz)
*
2312, Kim Stanley Robinson (Orbit US; Orbit UK)
*
Turing & Burroughs, Rudy Rucker (Transreal)
*
Redshirts, John Scalzi (Tor; Gollancz)
*
Ashes of Candesce, Karl Schroeder (Tor)
*
Lost Everything, Brian Francis Slattery (Tor)
*
Slow Apocalypse, John Varley (Ace)
*
The Fourth Wall, Walter Jon Williams (Orbit US; Orbit UK)
*
The Last Policeman, Ben Winters (Quirk)
---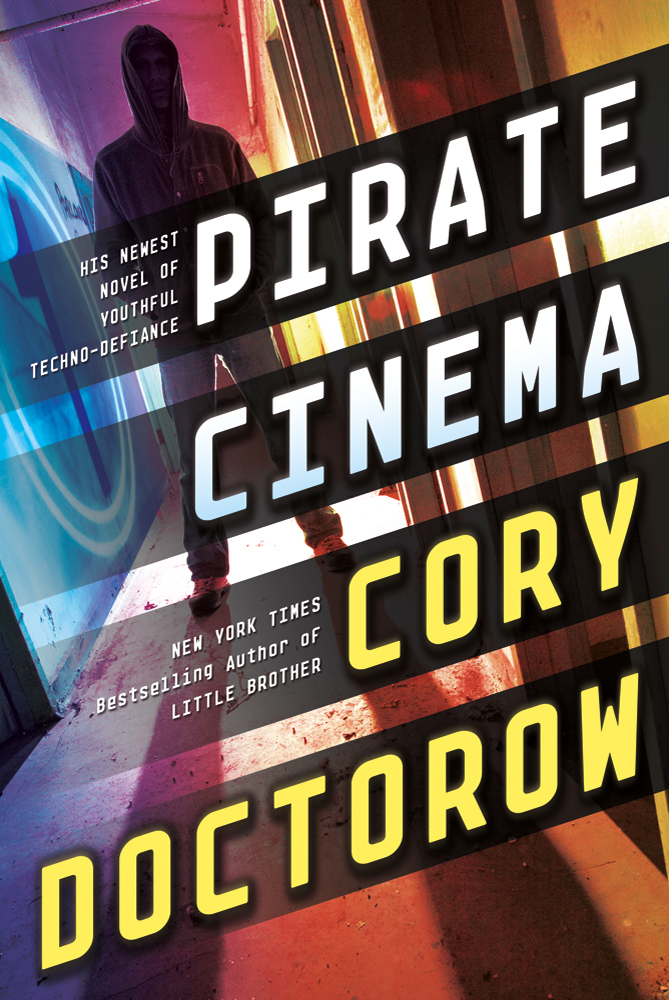 Nominations are open again for science fiction's Hugo Awards -- if you attended last year's WorldCon or have supported/bought a membership for this year's con, you get a vote. There's a lively LJ group discussing potential nominees (I often wait for the annual Locus Magazine best-of list to use as a crib for my nominations). My own eligible works are two novels: Pirate Cinema and Rapture of the Nerds (with Charles Stross), both from Tor Books. Here's Charlie Stross's list of eligible works, and here's a wider list instigated by John Scalzi. Feel free to leave your favorites (or own eligible works) in the comments here.
---
I'm delighted to announce that my novel Pirate Cinema is a finalist for this year's Prometheus Award, given by the Libertarian Futurist Society. Winning the Prometheus for Little Brother, and being nominated again for Makers was a major honor, and I've got my fingers crossed for this year.
---
Geoffrey Cole of Prism Magazine has posted the first part of a three-part interview we conducted in Vancouver, back when I was touring with Pirate Cinema. In this part, we talk about many subjects, notably Rapture of the Nerds:
The "Rapture" in Rapture of the Nerds has many meanings. Foremost, it is the ascension of most of biological humanity to a purely digital existence. Do you really think that such a huge percentage of humanity would leave their bodies behind if they could?

Yeah, totally. The question of whether such an option will likely be available to us is something I'm not at all certain about, but in the presence of such an option, I'm very confident that large numbers of people would opt for it. We like get-evolved-quick schemes. If you can sell Thighmasters, you can sell mind uploading.

An Interview with Cory Doctorow, Part 1 of 3
---