---
Supreet Kaur made this delightful C# remix of a pivotal scene in Makers, as part of the coursework for a Game Design degree in London. The remix scored an A+ -- congrats, Supreet!
---
Noah Brewer just successfully defended his MA English thesis Re-Makers: The Novel in Digital Collaborative Space at the University of Georgia. As the title implies, the piece is about my novel Makers. It's a smart piece of work, and I'm both tickled and honored.
---
Chris Davis made a smart 1 minute video inspired by Makers, which provides visual accompaniment to Landon Kettlewell's opening speech in the novel.
---

Jeff Clark sez, "I've created a graphic from the text of 'Makers' that shows the distribution of the various proper nouns in your work. It seems to do a pretty good job of communicating the ebb and flow of the various characters throughout the book."
This works amazingly well -- I've never seen an automated text analysis that was so revealing of the emotional and plot elements of a book!
---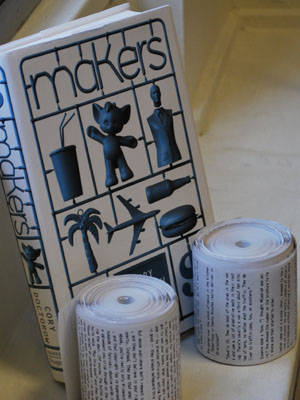 Ben O'Steen got his maker on by printing out the entire text of Makers on a cash-register receipt, using a till printer. Awesome.
---