Send me your remixes!
The Creative Commons license for this book allows you to remix it to make new and exciting stuff — videos, audios, new stories, anything else you can think of (games? toys?), and redistribute them on a noncommercial basis.
If you've done a cool remix and want to see it featured here, email me and I'll take a look. I can't promise that I'll link to every mix, but I'd love to check it out in any case!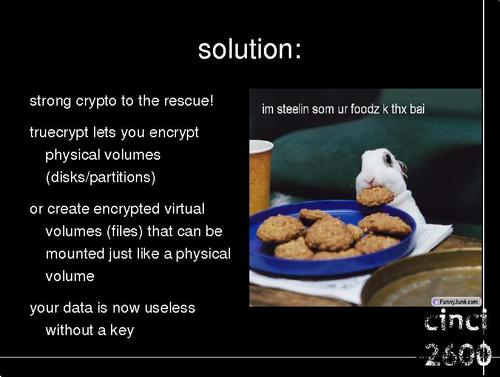 Chris sez, "I am also a member of the Cincinnati 2600 group. We get together once a month and listen to folks present on nifty things like SQL injections and packet sniffing. In early August we did lightning talks, which are little 5 minute presentations instead of the usualy 30-60 minute format. I gave 3 lightning talks that were inspired by Marcus' exploits in Little Brother: running applications from a USB drive, using block encryption to safeguard data on a USB stick, and hiding your encrypted data in a deniable format in the event of capture and torture."
Click the links above to download Chris's slides -- this is just too damned cool!
---
Dan Cooper created this handsome hand-bound personal copy of Little Brother, working from the PDF. Nice work!
---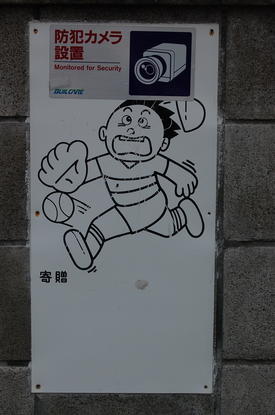 Matt Smith snapped this amazing street-sign in Tokyo, noting that "it's kind of a cool accidental cover" for my young adult novel Little Brother.
---
Today on BBtv, the first epidode in a series of video HOWTOs for the technology in Little Brother. These episodes are produced and narrated by an incredibly talented young woman who goes by "5t311a" and is purely made of awesome! Word is she's going to work through all the Instructables from the book!
---
Young adults in Evanston, IL worked with a teen librarian to make this unbelievably fantastic video based on Little Brother, reenacting the opening section of the book in painstaking detail (look at them limping from the gravel in their shoes!). This is so fantastically great.
---

Jeff Clark made this bad-ass "StreamGraph" of the word-frequency distributions in Little Brother -- they show how often proper names were used in the course of the book. It's a really fascinating look into the novel's storyline.
(Thanks, Jeff!)
---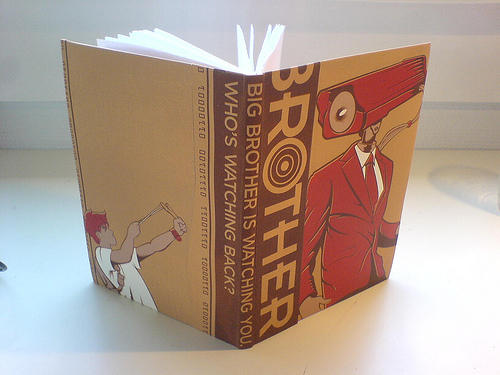 Book-binder Abi Sutherland took one of the misprints from Pablo Defendini's limited edition prints of his concept art for a paperback edition of my young adult novel Little Brother and custom-bound a hardcover of the book with it. I am consumed with lust for this one-of-a-kind edition. I hope Abi will let me see it in person some day!
Oh, and while I'm on the subject: the book's just gone into its fifth week on the NYT bestseller list, and it's still on the Indie list (formerly the Book Sense list) and as of this week, it's also on Publishers Weekly's bestseller list! Ho-ah!
Update: Abi sez,
Slight corrections: it's a blank book rather than a copy of Little Brother, mostly due to printer constraints. Printing out a whole book double-sided on my printer would be soul-destroying, and I don't have signature-sewn editions to tear down.

The binding is a "sewn boards" binding, about halfway between hardcover and softcover. The paper that Pablo used for the prints has such a nice feel and weight; I wanted to work with its sensual qualities.

And I confess that it's not one of a kind. I plan to make five or six of this set, one of which will be heading your way in the very near future. I was going to surprise you with it, but that requires secrecy. I got too excited about how the book came out and had to show it off: secrecy fail.
---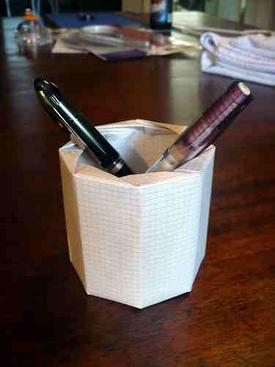 Flickr user Oschene created this papercraft compass rose jar on which is printed the entire text of my novel Little Brother, encoded as "1.7 gazillion microdots": "One has only to unfold the model, scan it and reconstitute it into a readable text."
---
ZOMG -- Writing in the comment section of Making Light, Abi Sutherland penned this Little Brother ditty, to be sung to the tune of How Can I Keep From Singing?:
My high school days were simple once
But now that time is ending.
I've learned how much I have to lose
And what is worth defending.
My freedom and my privacy
Depend on one another.
And those who threaten either one
Will deal with Little Brother.

Encryption guards my web of trust
Against the infiltration
Of DHS officials who
Would pry for information.
The Xnet grows with leaps and bounds
No outside force can smother
The message spreads from peer to peer:
We all are Little Brother.

The army trucks and prison cells
That caught us and confined us
Stripped all the innocence away
That we had thought defined us.
But now we know how strong we are
When we work with each other
So anyone who's watching us:
Watch out for Little Brother.
---
Jono decided to map all the locales mentioned in Little Brother, using Google's Keyhole -- he's not a San Francisco native, though, and wants help from you all with his way-points (they look pretty good to me!).
Link,
Link to Google Map display of Little Brother landmarks,
(Thanks, Jono!)
---