News

Here's a scene from Citizenfour, Laura Poitras's acclaimed documentary on Edward Snowden, showing Snowden packing his bags to leave Hong Kong, showing the book on his nightstand: my novel Homeland.
I literally could not be more proud than I am right now. Thanks to Poitras and her helper, Maria, for this clip.
---

James Scott Brodie is a teacher at Presidio Middle School in San Francisco, where Jen Wang and I spoke last month on our tour for In Real Life; prior to my arriving, he assigned my book Little Brother to his students, and produced some curricular materials that he's generously given to me to publish.
Little Brother Portfolio | Little Brother Acronym Challenge | Little Brother Biography project
He writes,
---
I was thrilled when the librarian announced that Cory Doctorow was going to make an appearance at our school. As an English teacher, aspiring writer, and complete nerd -- I find author visits a nice perk to the job. The students too, like to get out of the classroom whenever they can and author visits are a rare treat. I've been teaching for about five years and I've met two authors. It then dawned on me that we seldom read the books of the authors that come to visit our school. Mainly because our closets are filled with tons of dead people. Maybe five percent of our class sets are from the living, although Mr. Gomez somehow scored 40 copies of The Fault In Our Stars (he must know someone).
Nevertheless, it was early September and Doctorow was set to visit on October 16. I was determined to have my students read the book, but we only had ten copies from a box on loan from the public library. Now, Doctorow is super generous with his stuff and offers a lot of material to educators and students for free via his website, so I figured I would tap into this and download the book. At the same time I didn't want to print up 102 copies for my 3 English classes. That would take forever, cost a lot, and kill too many trees. So, long story short, this is what I did: I purchased the audio book, and two copies of the text. I read the book, making "marginal" and underlining vocabulary words, slowly sculpting it into a "teacher's edition." I also came up with questions for each chapter. Most the questions are simple guided questions (who, what, when, where and why), but I also made sure that each chapter has a question where the students can relate the reading to their own lives -- these inquiries were also great springboards for interesting classroom discussions. I printed up these sheets and students completed them as we listened to the audio book. This is where the second book comes into play – I used the unmarked version of the text to display on the white board at the front of the class via my ELMO projector for all the class to see. I was surprised at how huge I could get the book -- it was roughly four feet by six feet and I didn't know this but the little orange button on the left is for focusing (a student pointed this out to me). I'll have to say it was one of the most positive reading experiences I've ever had with a class. It may be psychological but the minute I projected the book on the board and hit the play button on the audio book -- students were enthralled as if watching a movie. Of course it may also have something to do with Mr. Doctorow's book -- there is a lot in there that the modern day teenager can relate to.
The entire unit took about six weeks. Students gathered all their vocabulary/question sheets into a portfolio. I purchased card stock and brass fasteners for students to make covers for these portfolios (which they decorated themselves) and this turned out to be a great boon for students that couldn't afford to purchase their own copies of the book, because when the big day came -- Doctorow autographed copies for his admirers. And this is how the lesson plan ended up here, Cory signed a few, thought they were cool and offered to post them. There are a couple of other activities that I've thrown in, but the above is the real meat and potatoes. Use them as you like, put your own personal spin on them and hopefully it will save you some time.
James Scot Brodie
English Teacher
SFUSD
---


The Copper Cylinder Prize, voted on by members of the Sunburst Award Society awarded best YA novel to Homeland; best adult novel went to Guy Gavriel Kay's River of Stars.
It's a fantastic honour, in some ways even better than winning the juried Sunburst Award, because popular awards are given to books that have wide appeal to the whole voter pool. I'm incredibly grateful to the Sunburst Award Society, and also offer congrats to Guy for his well-deserved honour.

Sunburst Award Society Announces the Winners of Its Third Annual Copper Cylinder Awards

---
Neil Anderson from the Association from Media Literacy (which has a great-sounding upcoming conference) has produced an excellent study guide for my novel Homeland (the sequel to Little Brother) -- Anderson's guide encourages critical thinking about politics, literary technique, technology, privacy, surveillance, and history.
I'm immensely grateful to Anderson for his good work here. I often hear from teachers who want to know if there are any curricular materials they can use in connection with my books, and several of them have shared their own guides with me, but this one stands out as an unusually comprehensive and thoughtful one.

7. Word Meanings
Because communications technologies are central to Homeland's plot, the novel contains many tech-oriented words that might be unfamiliar to some readers. Because Marcus is a young adult, some words are specific to young adult culture. Explain how readers could use context to infer the meanings of unfamiliar words.

Some words that you might use for inferring meanings include:

*Rooted
*Pwned
*Faraday pouch
*Lulz
*Darknet
*Tor
*Distro

8. Representation

Marcus Yallow, Homeland's protagonist, is a male. But there are several female characters: Ange is his girlfriend, Masha is an ally, Carrie is an enemy, and Flor is his campaign office boss.

Does Homeland represent a good balance of male and female characters or is it biased? Why?

Are the male and female characters fairly represented? Explain?

Homeland also includes representation from multiple racial/ethnic groups. Joe is African-American, Ange is Asian, etc.

How might this inclusiveness add to the novel's authenticity and pleasure?

Some people think that it is important for audiences to see themselves represented in the media texts that they consume; that it helps them enjoy the texts and validates their own existence.

Does it really matter whether Homeland's characters represent a range of racial/ethnic groups?

Would the story be equally interesting and entertaining if all the characters were from only one racial/ethnic group?

Imagine that Marcus, Ange, Joe and Carrie are from other racial/ethnic groups, or that their genders are switched.

How might those changes influence readers' responses to the story?
Homeland Study Guide [Neil Anderson/Association for Media Literacy]
---
Skyboat Media produced this great little documentary about Wil Wheaton's recording sessions for the audiobook of my novel Homeland, in which he had to read out Pi for four minutes straight, read out dialog in which the narrator had a fanboy moment about meeting Wil Wheaton, and many other fun moments.
---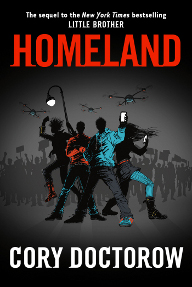 I am delighted and honored to announce that my novel Homeland has won the Prometheus Award for best novel, tying with Ramez Naam's excellent novel Nexus. I am triply honored because this is the third Prometheus I've won -- the other two being for Little Brother and Pirate Cinema. My sincere thanks to the Libertarian Futurist Society; I'll see you at the Worldcon in London this year to accept it!
---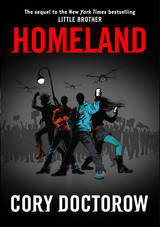 I'm honoured and delighted to learn that my novel Homeland has been shortlisted for Canada's Sunburst Award, a juried prize for excellence in speculative fiction. I've won the Sunburst twice before, and this is one of my proudest accomplishments; I'm indebted to the jury for their kindness this year. The other nominees are a very good slate indeed -- including Nalo Hopkinson's Sister Mine and Charles de Lint's The Cats of Tanglewood Forest.
---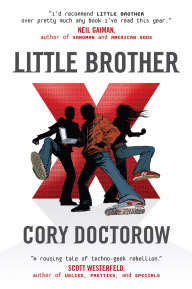 For the first time, one of my books has been challenged. The students at Booker T Washington High in Pensacola, Florida were to be assigned Little Brother for their summer One School/One Book read. At the last instant -- and over the objections of the head of the English department and the chief librarian -- the principal reversed the previous approval and seems to have cancelled the One School/One Book program outright. My amazing publishers, Tor Books, have volunteered to send 200 copies to the school for the students to read, and I'll participate in a videoconference with the students in the coming school year. Read all about it on Boing Boing.
---
Humble Ebook Bundle adds Lawful Interception audio, From Hell Companion, Too Cool To Be Forgotten

The latest Humble Ebook Bundle has added four new titles: Alan Moore and Eddie Campbell's From Hell, the From Hell Companion (review), Too Cool to Be Forgotten (review); and my audiobook for Lawful Interception, the sequel to Little Brother and Homeland. They join a stellar lineup of other comics, novels and ebooks with work by Neil Gaiman, George RR Martin, Ed Piskor, Nate Powell, Paolo Bacigalupi, Tobias Buckell and Terry Goodkind.
Name your price for them -- all DRM free, and you can contribute to charity when you buy!
---

The finalists for the 2014 Locus Awards have been announced and I'm incredibly honored to see that my novel Homeland made the final five in the Young Adult category. The competition in that category is remarkably good company: Zombie Baseball Beatdown by Paolo Bacigalupi; Holly Black's Coldest Girl in Coldtown, Cat Valente's The Girl Who Soared Over Fairyland and Cut the Moon in Two (part of her wonderful Fairyland series) and The Summer Prince by Alaya Dawn Johnson.
As always, the Locus list is a great guide to the best sf/f published in the previous year. On this year's list are some books I really enjoyed (like Stross's Neptune's Brood) and others I've got in my high-priority to-be-read pile, like Gaiman's The Ocean at the End of the Lane.
My sincere thanks to everyone who nominated Homeland for the prize; I couldn't be more delighted!
---