News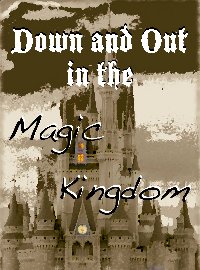 The talented folks at DaveFilms have produced a full-cast audiobook adaptation of my award-winning novel Down and Out in the Magic Kingdom. They're transmitting it in ten parts, as a podcast -- part 1 just went live.
This is the second audio adaptation of Down and Out -- the podcaster Mark Forman read the book aloud on his podcast in August 2005.
I love the different adaptations of the book -- it's amazing to hear my words read by so many different people, with so many different choices about how to dramatize it. Often, the reading isn't how I heard it in my own head when I wrote it, which is cool -- it's wild to hear how your own words sound to someone else.
Link to part 1 as MP3, Link to part 1 as streaming Quicktime, Podcast feed


Joseph Petviashvili is a fan of my novel Down and Out in the Magic Kingdom -- he likes it so much that he's created a software version of "Whuffie," the reputation currency that forms the basis of the Bitchun Society I described in the book.
Bitchun.org is runs on open source code (still in alpha release), creating a marketplace for trading and rewarding favors for your friends and like-minded strangers. It's pretty amazing to have something I invented for a science fiction novel turned into running code!
What's the Bitchun Society and what's whuffie?
Whuffie is a high five, it's that look of appreciation you give for a job well done, it's a thumbs up. It's your personal capital with your friends and neighbors. It's whuffie! People who give out and receive whuffie are in the Bitchun Society. It was first mentioned in Cory Doctorow's novel, Down and Out in the Magic Kingdom.

What is the Bitchun Society for?
Right now, being part of the Bitchun Society lets you find people who share your interests and can help you through the use of a special Skype bot we call the Bitchun Butler.
(Thanks, Joe!)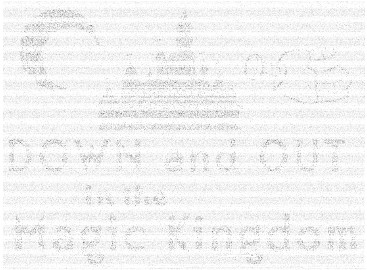 Aki Kyozoku, a fan of my novel Down and Out in the Magic Kingdom, has converted the entire text of the book to a
poster that depicts the type and graphics from the book's cover. By shading the type and inserting spaces in it, Aki was able to use the type itself as pixels in a giant bitmap that you can print on your favorite large-format printer and stick on your wall. Man, that's cool!
Andrew Crocker writes, "I'm a senior art student at Colorado State University. Recently we
had an assignment where we were supposed to make a "3D
illustration"
(make a sculpture, light it and photograph it) dust jacket and 2
page
spread for one of our favorite books. I chose Down and Out, and
thought I might send you the cover."
This is really striking and lovely design work. Nice job, Andrew! Thanks so much!
(see also these fan-covers for the book)

Here's the introduction Javier Candeira wrote for Tocando Fondo, the Spanish edition of Down and Out in the Magic Kingdom -- Javier kindly sent me an English translation of the piece. I think it's just awesome (and awfully flattering!).
The cure for death and the death of work (and free energy). The opening line of Down and Out in the Magic Kingdom is fit for inclusion in one of those novel-opening-line antologies that kids are so crazy about nowadays. Like Gabriel Garc�a M�rquez in One Hundred Years of Solitude ("Many years later, as he faced the firing squad, Colonel Aureliano Buend�a was to remember that distant afternoon when his father took him to discover ice.") or Jane Austen in Pride and Prejudice ("It is a truth universally acknowledged, that a single man in possession of a good fortune must be in want of a wife."), Cory Doctorow starts off with a perfect pool shot: he considers the vantage point of his preferred audience members, he sets the balls on the table in an alegorical figure, he makes his main character the cue ball and, with a steady pulse, strikes him and sends him in the right direction, bouncing against the world and the rest of the characters, achieving his desired effect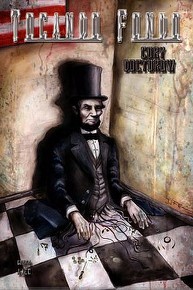 Down and Out in the Magic Kingdom has just been published in Spain as Tocando Fondo, and in Japan as マジック・キングダムで落ちぶれて ハヤカワ文庫SF.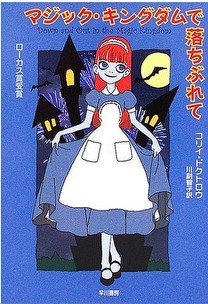 There's lots to like about both editions, but my favorite things are one, Javier "Barrapunto" Candeira's kick-ass introduction to Tocando Fondo, and two, the amazing cover on the Japanese edition.

Mitch did a project for a San Francisco State University course in Design and Industry in which he created three alternative covers for Down and Out in the Magic Kingdom. He sez,

The cover titled "experimental" is a photo I shot of Tomorrowland with my Digital Rebel from the Monorail last year. I added vertical grain to it to give it a dissonant look. The type is terminal inspired.

"conventional" is a drawing of a robot action figure that I did a little while back which turned out to work really well with this project. Reminiscent of the animatronics in the story. This is my favorite of the covers.

Not much to say about the typographic cover other than I like the way your name turned out with the bisecting line.

Mark Forman is the podcaster who's been serializing my novel Down and Out in the Magic Kingdom read aloud, one chapter at a time, with backing from great, Creative Commons-licensed music. Today he concluded the reading with chapters nine and ten in one installment. Now he's embarked upon his next project, reading Lessig's magnificent Free Culture.
(Thanks, Mark!)
My story Truncat (a sequel to Down and Out in the Magic Kingdom) has been translated into German by Magnus Wurzer. The translation is called Schnipsel and it's licensed under a Creative Commons license.
Mark Forman, a podcaster, is reading Down and Out in the Magic Kingdom on his podcast with regular, chapter-by-chapter readings. He's got the prologue and chapter one live now. Here's the Podcast feed.